Date:
February 4, 2011
Contact:
Mary Pat Doorley
, 440-546-5995
Contact:
Jocelyn Buckey
, 330-657-2909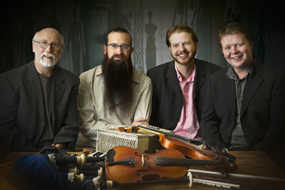 Brecksville, Ohio – The enormously talented Scottish band, the Battlefield Band takes to the stage at Happy Days Lodge as part of the Cuyahoga Valley Heritage Series. The show begins at 8 p.m. on Friday, February 11, 2011 in Cuyahoga Valley National Park (CVNP). The Heritage Series, presented by the National Park Service and the Conservancy for Cuyahoga Valley National Park celebrates the cultural legacy of the Cuyahoga Valley. The series is sponsored by Courtyard Marriott- Akron/Stow, 89.7 WKSU, Lloyd L. & Louise K. Smith Foundation, Ohio Arts Council, and Cable 9. Doors open at 7 p.m.
Admission is $17 adults, $12 Conservancy members, and $5 children ages 3 - 12. General seating. Advance sales are available until 3 p.m. on Friday for that weekend's show by calling 330-657-2909 or stopping at Park Place in Peninsula. For updated ticket availability information, call the Cultural Arts Hotline at 330-650-4636, ext. 228. The hotline is updated at 2 p.m. the day of every concert and is intended to inform callers of sold out events or weather related cancellations.
Under their banner "Forward with Scotland's Past", Battlefield Band have been performing on the international scene for four decades, inspired by their rich heritage of Celtic music and fired by the strength of the modern Scottish cultural scene. The band, which pioneered the integration of bagpipes with fiddle, keyboards, guitar, and voice, mix the old songs and tunes with new self-penned material, playing them on a unique fusion of ancient and modern instruments.
Current band members include Mike Katz (Highland bagpipes, small pipes, whistles, bouzouki, guitar and bass), Alasdair White (fiddle, whistle, bouzouki, pipes), Sean O'Donnell (vocals and guitar), and Ewen Henderson (fiddle, pipes, vocals, and piano).
Happy Days Lodge, located at 500 West Streetsboro Road (State Route 303) in Peninsula 44264, 1 mile west of State Route 8, is a restored Civilian Conservation Corps structure that provides a rustic ambiance for folk and traditional concerts, theater, lectures, and special event rentals. For more information on rentals, call CVNPA at 330-657-2909 ext. 119.
The Conservancy for Cuyahoga Valley National Park is a nonprofit organization created to engage public support for the park and provide services to enhance public use and enjoyment of the park. For more information about the Conservancy and its membership program, visit www.conservancyforcvnp.org or call 330-657-2909.
CVNP encompasses 33,000 acres along the Cuyahoga River between Cleveland and Akron, Ohio. Managed by the National Park Service, CVNP combines cultural, historical, recreational, and natural activities in one setting. For more information visit www.nps.gov/cuva or www.dayinthevalley.com or call 330-657-2752 or 800-257-9477.
-NPS-