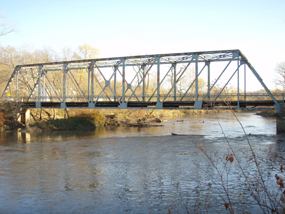 Fitzwater Truss Bridge and Waste Weir Bridge Replacements
Fitzwater Road extends from Canal Road west, and ends at the Cuyahoga Valley Scenic Railroad maintenance yard. Along this segment of the road are the Fitzwater Truss Bridge, the Waste Weir Bridge and a culvert. The Fitzwater Truss Bridge, constructed in 1922, is approximately 200 feet long and 28 feet wide and carries Fitzwater Road over the Cuyahoga River. The Waste Weir Bridge, constructed in 1922, is approximately 76 feet long and 29 feet wide. It carries Fitzwater Road over the Canal spillway wastewater flume. A concrete box culvert, located between the two bridges, carries Fitzwater Road over the Ohio & Erie Canal. The National Park Service, in cooperation with the Federal Highway Administration, completed an Environmental Assessment (EA) that analyzed the potential impacts of rehabilitating and/or replacing the Fitzwater Truss Bridge and the Waste Weir Bridge. Also analyzed were the construction of a new trailhead and associated parking area at the Ohio & Erie Canal Towpath Trail and miscellaneous improvements to Fitzwater Road. Replacing both bridges on a new alignment was determined to be the preferred alternative. Fitzwater Road would be re-aligned to create a four-way intersection with Canal Road.
The design work was completed and the construction work began in December 2009.
The Towpath Trail near Fitzwater Road Bridge is closed until further notice. The closure is required to protect the public from construction activities near and over the trail. There will is no detour posted, and the closure may be extended or lifted, as necessary.
The closures include:
Fenced construction area around the Fitzwater Bridge construction site and adjacent Towpath Trail
Other areas as indicated by closed signs
When necessary, Park Rangers will issue court citations to persons violating the terms of this closure under authority of 16 USC 3; 36 CFR 1.5(f). For more information, contact Project Manager Rob Bobel at (800) 433-1986, ext. 5972.