Date:
March 25, 2011
Contact:
Mary Pat Doorley
, 440-546-5995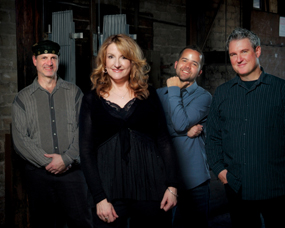 Brecksville, Ohio – The award-winning Claire Lynch Band brings their own style of bluegrass music to the Cuyahoga Valley Heritage Series on Saturday, April 2, 2011. The show begins at 8 p.m. at Happy Days Lodge in Cuyahoga Valley National Park (CVNP). Doors open at 7 p.m. The Heritage Series, presented by the National Park Service and the Conservancy for Cuyahoga Valley National Park, celebrates the cultural legacy of the Cuyahoga Valley. The series is sponsored by Courtyard Marriott-Akron/Stow, 89.7 WKSU, Lloyd L. & Louise K. Smith Foundation, Ohio Arts Council, and Cable 9.
 Admission is $17 adults, $12 Conservancy members, and $5 children ages 3 - 12. General seating. Advance sales are available until 3 p.m. on Friday for that weekend's show by calling 330-657-2909 or stopping at Park Place in Peninsula. For updated ticket availability information, call the Cultural Arts Hotline at 330-650-4636, ext. 228. The hotline is updated at 2 p.m. the day of every concert and is intended to inform callers of sold out events or weather related cancellations.
Long recognized and praised as a creative force in acoustic music, Claire Lynch is a pioneer who continually pushes the boundaries of the bluegrass genre. The current Claire Lynch Band is a powerful juggernaut, a quartet that has the innate ability to perfectly interpret the beauty, subtlety, and genre-defying sophistication of Claire's music. Dolly Parton credits Claire with "one of the sweetest, purest and best lead voices in the music business today." Claire's harmonies have graced the recordings of many stellar musicians, from Ralph Stanley to Linda Ronstadt. Equally gifted as a songwriter, her songs have been recorded by The Seldom Scene, Patty Loveless, Kathy Mattea, The Cherryholmes, The Whites, and others.
The musical talents extend beyond the band's leader. Ontario native Jason Thomas brings monster chops on fiddle and mandolin, supported by remarkable musical versatility and imagination. The band is grounded by bassist Mark Schatz's deft touch and masterful instinct for groove. And Matt Wingate is a remarkably soulful young gun whose mature improvisational musicality is seemingly far beyond his years, making him instantly at home in one of the greatest bluegrass bands currently on the scene.
Happy Days Lodge, located at 500 West Streetsboro Road (State Route 303) in Peninsula 44264, 1 mile west of State Route 8, is a restored Civilian Conservation Corps structure that provides a rustic ambiance for folk and traditional concerts, theater, lectures, and special event rentals. For more information on rentals, call the Conservancy at 330-657-2909 ext. 119.
The Conservancy for Cuyahoga Valley National Park is a nonprofit organization created to engage public support for the park and provide services to enhance public use and enjoyment of the park. For more information about the Conservancy and its membership program, visit www.conservancyforcvnp.orgor call 330-657-2909.
 CVNP encompasses 33,000 acres along the Cuyahoga River between Cleveland and Akron, Ohio. Managed by the National Park Service, CVNP combines cultural, historical, recreational, and natural activities in one setting. For more information visit www.nps.gov/cuva or www.dayinthevalley.com or call 330-657-2752 or 800-257-9477.
-NPS-
Download a pdf of this press release.