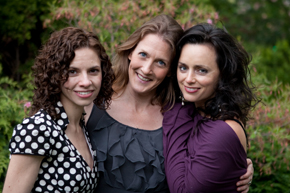 News Release Date:
March 7, 2011
Contact: Mary Pat Doorley, 440-546-5995
Contact: Jocelyn Buckey, 330-657-2909 ext. 106
Brecksville, Ohio – The New York-based Americana/roots trio, Red Molly, will take to the stage at Happy Days Lodge in Cuyahoga Valley National Park (CVNP) on Friday, March 11 as part of the Cuyahoga Valley Heritage Series. The show begins at 8 p.m. Doors open at 7 p.m. The Heritage Series, presented by the National Park Service and the Conservancy for Cuyahoga Valley National Park, celebrates the cultural legacy of the Cuyahoga Valley. The series is sponsored by Courtyard Marriott-Akron/Stow, 89.7 WKSU, Lloyd L. & Louise K. Smith Foundation, Ohio Arts Council, and Cable 9.
Admission is $17 adults, $12 Conservancy members, and $5 children ages 3 - 12. General seating. Advance sales are available until 3 p.m. on Friday for that weekend's show by calling 330-657-2909 or stopping at Park Place in Peninsula. For updated ticket availability information, call the Cultural Arts Hotline at 330-650-4636, ext. 228. The hotline is updated at 2 p.m. the day of every concert and is intended to inform callers of sold out events or weather related cancellations. The Boston Globe stated, "Red Molly may be from New York, but their bluegrass and old-time gospel sounds and buoyant three-part harmonies are so down-home it's as if their notes are carried to you on the crisp air of the Ozarks." The dynamic female trio that began as a happy accident around a campsite is now drawing invitations from renowned historic national events like Merlefest, and is winning over audiences around the country. Spurred onward by an ever-growing and devoted fanbase, and their desire to commit to touring farther from home, Red Molly is at the start of a new and exciting musical chapter. After six years of touring, the band announced that guitarist/bassist Carolann Solebello would leave the group. Remaining founding members Laurie MacAllister (bass, banjo) and Abbie Gardner (Dobro, guitar) welcome the newest "Molly", Austin-based singer/songwriter Molly Venter, to fill out their lush, distinctive three-part harmonies.
Happy Days Lodge, located at 500 West Streetsboro Road (State Route 303) in Peninsula 44264, 1 mile west of State Route 8, is a restored Civilian Conservation Corps structure that provides a rustic ambiance for folk and traditional concerts, theater, lectures, and special event rentals. For more information on rentals, call the Conservancy at 330-657-2909 ext. 119.
The Conservancy for Cuyahoga Valley National Park is a nonprofit organization created to engage public support for the park and provide services to enhance public use and enjoyment of the park. For more information about the Conservancy and its membership program, visit www.conservancyforcvnp.org or call 330-657-2909.
CVNP encompasses 33,000 acres along the Cuyahoga River between Cleveland and Akron, Ohio. Managed by the National Park Service, CVNP combines cultural, historical, recreational, and natural activities in one setting. For more information visit www.nps.gov/cuva or www.dayinthevalley.com or call 330-657-2752 or 800-257-9477.
-NPS-