Date:
January 17, 2013
Contact:
Mary Pat Doorley, CVNP
, 440-546-5995, 440-343-7355 (cell)
Contact:
Jared Slanina, Conservancy
, 330-657-2909 ext. 109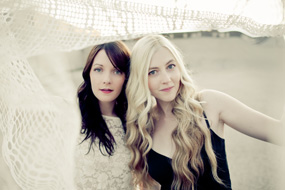 Brecksville, Ohio - Dala, the sweetheart Canadian duo known for amazing harmony, captivating voices, and engaging concerts returns to Happy Days Lodge as part of the Cuyahoga Valley Heritage Series. The show begins at 8 p.m. on Friday, January 18, 2013 in Cuyahoga Valley National Park (CVNP). Doors open at 7 p.m. The group's performance is presented by the National Park Service and the Conservancy for Cuyahoga Valley National Park, celebrating the cultural legacy of the Cuyahoga Valley. The series is sponsored by Courtyard Marriott-Akron/Stow, 89.7 WKSU, Lloyd L. & Louise K. Smith Foundation, and Cable 9.
Admission is $17 adults, $12 Conservancy members, and $5 children ages 3 - 12. General seating. Advance sales are available until 3 p.m. on Friday, January 18, by calling 330-657-2909. You can create your own subscription series-enjoy three great Cuyahoga Valley Heritage Series concerts for one low price! No cash refunds, but tickets may be exchanged up to 10 days before the concert. Series prices: $45 adults, $30 Conservancy members, and $15 children ages 3 - 12.
Juno nominees and winners of the 2010 Canadian Folk Music Award for Vocal Group of the Year, Amanda Walther and Sheila Carabine of Dala write and sing in harmony best described as angelic. These two best friends met in their high school music class in 2002; they have since released five albums and toured extensively across North America. Darlings of the Canadian music scene, Dala are now poised to bring their fresh brand of acoustic pop music to the world.
Drawing upon influences like The Beatles, Joni Mitchell, Neil Young and Bob Dylan, Dala write songs that are both catchy and insightful. Amanda's ethereal soprano voice blends seamlessly with Sheila's velvety alto, creating the lush harmonies that have become their trademark. The sheer joy with which they perform is infectious, turning first-time listeners into instant fans. Dala are equally entertaining between songs, telling funny and down to earth stories that make every show unique.
Happy Days Lodge, located at 500 West Streetsboro Road (State Route 303) in Peninsula 44264, 1 mile west of State Route 8, is a restored Civilian Conservation Corps structure that provides a rustic ambiance for folk and traditional concerts, theater, lectures, and special event rentals. For more information on rentals, call the Conservancy at 330-657-2909 ext. 119.
The Conservancy for Cuyahoga Valley National Park is a nonprofit organization created to engage public support for the park and provide services to enhance public use and enjoyment of the park. For more information about the Conservancy and its membership program, visit www.conservancyforcvnp.org or call 330-657-2909.
CVNP encompasses 33,000 acres along the Cuyahoga River between Cleveland and Akron, Ohio. Managed by the National Park Service, CVNP combines cultural, historical, recreational, and natural activities in one setting. For more information visit www.nps.gov/cuva or call 330-657-2752.
-NPS-