Date:
August 22, 2012
Contact:
Susan L. Riffle Director of Marketing and Public Relations
, 330-657-2909 ext. 109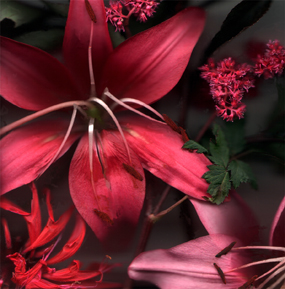 Conservancy for Cuyahoga Valley National Park
PENINSULA, Ohio (Wednesday, August 22, 2012) - Deborah Pinter, fine art photographer and long-time curator of the John F. Seiberling Gallery, will be featured in a new gallery exhibit this fall. Pinter's exhibition entitled, LUMINOUS FLORALS, will be on display from September 17 through November 4, 2012, at the John F. Seiberling Gallery. An opening reception for the artist will be held at the Seiberling Gallery on Sunday, September 16, from 2:00 to 4:00 p.m.
As a contemporary photographer of botanicals, Deborah Pinter applies twenty-first-century innovations to the Enlightenment tradition of closely observing and recording the natural world. She creates her "scanagrams" by digitally scanning flowers, using software to manipulate her imagery, and printing the photographs on lustrous polymer sheets. With their sharp forms and spare backgrounds, Pinter's floral images resemble Victorian-era cyanotypes and early-twentieth-century photograms.
Pinter's more recent Flower series depicts single specimens in tight focus against dark backgrounds. Blossoms seem to materialize just beneath the surface of each image, where they are raked by intense light. The Flower series explores the strange abstract beauty of plants. Bold patterns emerge as stems and stamen crisscross like spokes in a wheel, and
uniform ridges run the length of petals that, in turn, grow in concentric circles. Pinter's close-ups of flowers curving, splitting, folding, and twisting induce a feeling of pleasurable disorientation. Her art evinces the push-pull between opposing elements that define both the floral and human realms: energy and dissipation; clarity and mystery; and presence and absence.
- Kathryn A. Wat, Curator of Modern and Contemporary Art National Museum of Women in the Arts, Washington, D.C.
Pinter received her BFA in Photography from the Cleveland Institute of Art and earned her MA from New York University/International Center of Photography joint graduate program. Her work is included in numerous private and public collections including Progressive Art Collection, The Cleveland State University Art Collection and the Laura Ruth and Fred Bidwell Collection. Exhibition venues include The Cleveland Botanical Gardens, The Art Gallery at Cleveland State University, River Gallery and the University of Akron Emily Davis Gallery.
LUMINOUS FLORALS can be viewed at the Seiberling Gallery on weekdays 8:30 - 5:00 pm and by appointment on weekends. The Seiberling Gallery is free and open to the public and is located in Hines Hill House, the Administrative Building of the Conservancy for Cuyahoga Valley National Park, at 1403 West Hines Hill Road, Peninsula.
To learn more about the LUMINOUS FLORALS gallery exhibition, contact the Conservancy for Cuyahoga Valley National Park at 330-657-2909 or visit www.conservancyforcvnp.org.
About the Conservancy for Cuyahoga Valley National Park The Conservancy for Cuyahoga Valley National Park is a non-profit organization created to engage public support for the park and provide services to enhance public use and enjoyment of the park. For more information about the Conservancy and its programs, visit www.conservancyforcvnp.org or call 330-657-2909.
# # #
Editor's Note: Several high-resolution photographs are available for use in your publication. Please contact Susan L. Riffle at sriffle@forcvnp.org or 330-657-2909 ext. 109.