Date:
March 11, 2011
Contact:
Mary Pat Doorley
, 440-546-5995
Contact:
Jocelyn Buckey
, 330-657-2909 ext. 106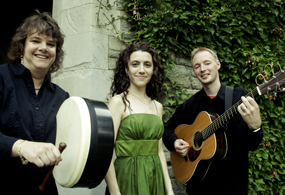 Brecksville, Ohio – Celebrate St. Patrick's weekend with the diverse Celtic sounds of RUNA when they take to the stage at stage at Happy Days Lodge as part of the Cuyahoga Valley Heritage Series on Saturday, March 19, 2011. The show begins at 8 p.m. in Cuyahoga Valley National Park (CVNP). Doors open at 7 p.m. The Heritage Series, presented by the National Park Service and the Conservancy for Cuyahoga Valley National Park, celebrates the cultural legacy of the Cuyahoga Valley. The series is sponsored by Courtyard Marriott-Akron/Stow, 89.7 WKSU, Lloyd L. & Louise K. Smith Foundation, Ohio Arts Council, and Cable 9.
Admission is $17 adults, $12 Conservancy members, and $5 children ages 3 - 12. General seating. Advance sales are available until 3 p.m. on Friday for that weekend's show by calling 330-657-2909 or stopping at Park Place in Peninsula. For updated ticket availability information, call the Cultural Arts Hotline at 330-650-4636, ext. 228. The hotline is updated at 2 p.m. the day of every concert and is intended to inform callers of sold out events or weather related cancellations. RUNA burst onto the music scene during the summer of 2008 and has been taking audiences by storm ever since. Drawing on the diverse musical backgrounds of band members Shannon Lambert-Ryan (vocals), Fionán de Barra (guitar), Cheryl Prashker (percussion), and Tomoko Omura (fiddler), RUNA brings a contemporary and refreshing experience to traditional and more recently composed Celtic material. Through their repertoire of both highly energetic and graceful, acoustic melodies, along with their fusion of music from Ireland, Scotland, the Shetland Islands, Canada, and the United States, this vocal and instrumental ensemble gives its arrangements of traditional songs and tunes a fresh sound.
RUNA has been winner of the several awards at the Montgomery Buck Music Awards, including Best Entertaining Band, Best Folk Artist, Best Female Vocalist, and Best Album – Jealousy.
Happy Days Lodge, located at 500 West Streetsboro Road (State Route 303) in Peninsula 44264, 1 mile west of State Route 8, is a restored Civilian Conservation Corps structure that provides a rustic ambiance for folk and traditional concerts, theater, lectures, and special event rentals. For more information on rentals, call the Conservancy at 330-657-2909 ext. 119.
The Conservancy for Cuyahoga Valley National Park is a nonprofit organization created to engage public support for the park and provide services to enhance public use and enjoyment of the park. For more information about the Conservancy and its membership program, visit www.conservancyforcvnp.org or call 330-657-2909.
CVNP encompasses 33,000 acres along the Cuyahoga River between Cleveland and Akron, Ohio. Managed by the National Park Service, CVNP combines cultural, historical, recreational, and natural activities in one setting. For more information visit www.nps.gov/cuva or www.dayinthevalley.com or call 330-657-2752 or 800-257-9477.
-NPS-
Download a high resolution jpeg of RUNA. Please credit as: COURTESY RUNA.
Download a pdf of this news release.