Date:
February 23, 2011
Contact:
Joceyn Buckey
, (330) 657-2909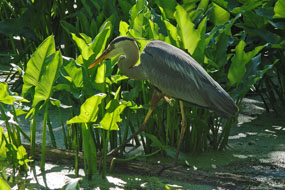 Conservancy for Cuyahoga Valley National Park
Peninsula, Ohio - Join the Conservancy for Cuyahoga Valley National Park, Cuyahoga Valley National Park, and Old Trail School on Saturday, March 5, 2011 to celebrate the return of the great blue heron to Cuyahoga Valley National Park. The annual Blue Heron Day Celebration: Pancakes in the Park will highlight the important mission we all have to protect and preserve Cuyahoga Valley National Park's evolving habitat while educating future generations about the great blue herons.
Blue Heron Day Celebration takes place from 8:30 a.m. to noon at Old Trail School, located at 2315 Ira Road in Bath 44210.
Blue Heron Day kicks off with an Early Risers Heronry Hike beginning at 8 a.m., led by a park ranger. Ranger-led hikes from Old Trail School to the Bath Road Heronry will continue through the morning until noon. Shuttles to the Heronry will also be available courtesy of the Cascade Auto Group. Breakfast, featuring Bob Evans pancakes and sausage, will be served from 8:30 a.m. until noon, by Old Trail School fourth grade students as part of service learning curriculum. Various activities featuring educational crafts, personalized photos, puppet shows, and a live bird exhibit from the Medina Raptor Center, will allow guests to learn about herons and their habitat.
Special appearance this year – Robin Kirk, author of the blue heron themed book Great Blue: How do you do? , will be presenting a story time throughout the morning. She will be signing books, which will be made available for purchase at the event from Park Place in Peninsula, the Conservancy for Cuyahoga Valley National Park's retail store.
Advanced sale tickets are available by calling 800-642-3297 ext. 100 until Friday, February 25 or they can be purchased at the door.
Advance – Adults $6, children 6-12 years old - $4
At the Door – Adults $8, children 6-12 years old - $6
Children 5 and under – Free
The Conservancy for Cuyahoga Valley National Park is a non-profit organization created to engage public support for the park and provide services to enhance public use and enjoyment of the park. For more information about the Conservancy and its programs, visit www.conservancyforcvnp.org or call (330) 657-2909.
Old Trail School is an independent, coeducational day school for toddler through grade eight. Located within Cuyahoga Valley National Park in Bath, Ohio, the school offers a personal, nurturing and academically challenging liberal arts program to students that emphasize excellence in academics, athletics and the arts.
CVNP covers 33,000 acres along the Cuyahoga River between Cleveland and Akron, Ohio. Managed by the National Park Service, CVNP combines cultural, historical, recreational and natural activities in one setting. For more information visit www.nps.gov/cuva or www.dayinthevalley.com or call (216) 524-1497 or (800) 445-9667.
###