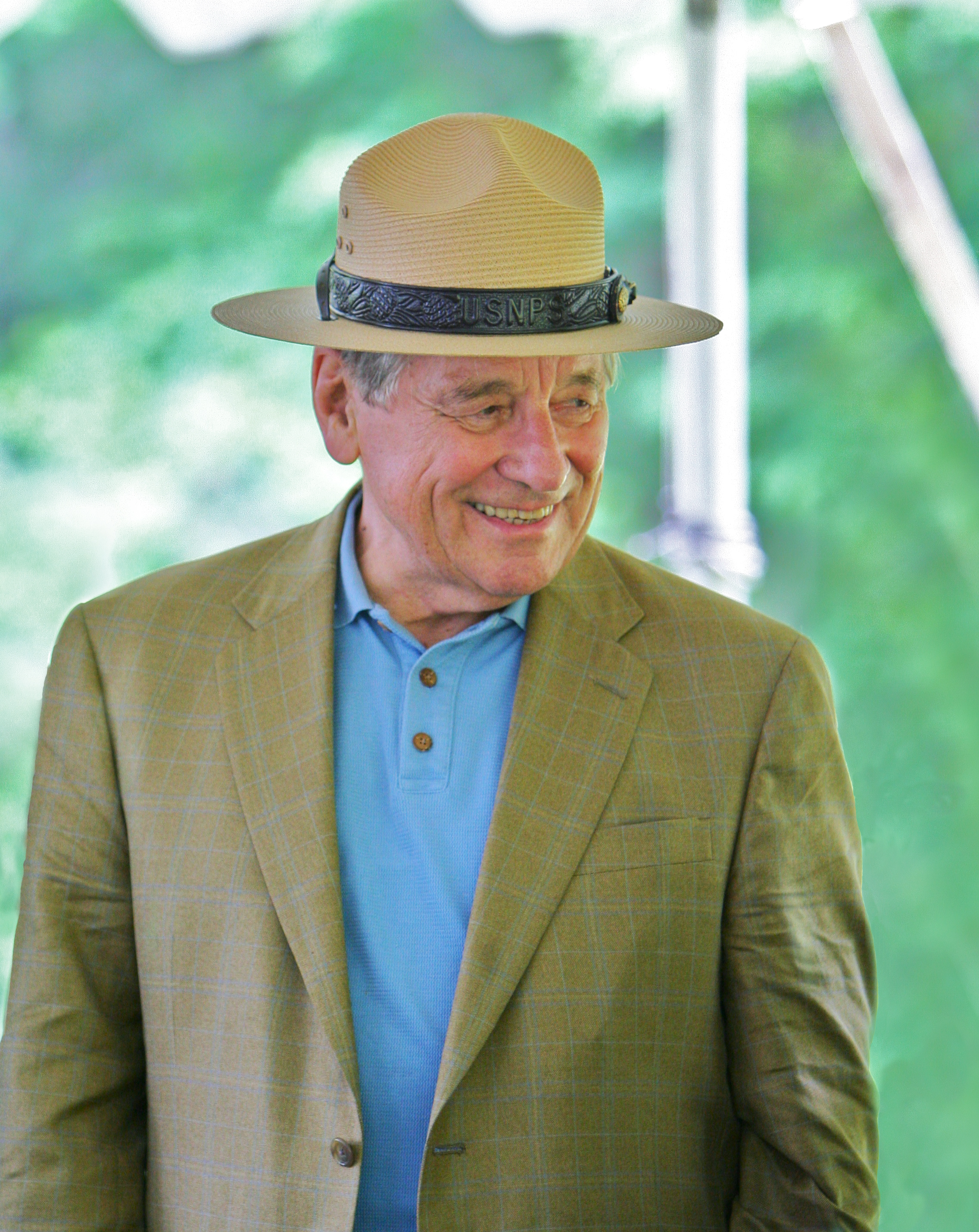 News Release Date:
July 20, 2017
Contact: Pamela Barnes, 440-546-5994
Brecksville, Ohio
–
Cuyahoga Valley National Park (CVNP) is saddened to acknowledge the death of former U.S. Congressman, Ralph S. Regula, at the age of 92.  Mr. Regula stands as one of the "founding fathers" of CVNP.
Regula's connection to the land began with his experiences growing up on a farm in Stark County. His path to Congress included the Navy during World War II and working as a teacher, lawyer, and Ohio legislator. He worked closely with fellow Ohio Congressmen John F. Seiberling and Charles Vanik to garner support for the bill creating Cuyahoga Valley National Recreation Area, signed by President Gerald Ford in December, 1974.
During the senate hearing for the establishment of the park, Congressman Regula said "…we could be the architects in preserving this heritage for future generations, it goes far beyond today in terms of the potential". Thanks to this foresight, the potential of Cuyahoga Valley is being realized 43 years later, and his legacy will last into the future.
For 34 years following the parks' establishment, Congressman Regula championed the park in the House of Representatives. He helped guide over $200 million to the park to purchase land, restore historic structures, and establish activities for the public's enjoyment.
In 2000, Regula shepherded the park's name change from Cuyahoga Valley National Recreation Area to Cuyahoga Valley National Park, giving the park a more recognizable identity as a unit of the National Park System.  
In addition, he worked as a tireless advocate for the national parks. He secured financial support for other Ohio sites: Perry's Victory International Peace Memorial and James Garfield National Historic Site. He and his wife Mary Regula are responsible for the creation of First Ladies National Historic Site. The National Park Service Recreation Fee Program, which ensures entrance fees will be used to support national parks, was also authored by Congressman Regula.
Congressman Regula valued Cuyahoga Valley National Park because it provides open space for outdoor recreation. He supported the park as a place that could be visited more affordably and frequently that remote western national parks, and often remarked that he saw the park emerging as the "Central Park" for northeast Ohio.He is honored in an exhibit near the Everett Covered Bridge, 2370 Everett Road, Peninsula, OH 44264. At its dedication he was officially recognized as an honorary park ranger.
Upon hearing of Mr. Regula's death, Craig Kenkel, Superintendent of Cuyahoga Valley National Park, First Ladies National Historic Site, and James A. Garfield National Historic Site, said "Former U.S. Congressman Ralph Regula was a great champion for protecting and conserving northeast Ohio's and our nation's parks, heritage areas and historic sites. He deeply believed our American quality of life is enhanced when one is connected to the land, nature, and our past, especially when such connections are part of our daily lives. We are forever indebted to Mr. Regula for his public stewardship and are honored to care for the national treasures he was instrumental in creating. We are deeply grateful to Mrs. Regula and the family for sharing Congressman Regula with us and offer our heart-felt condolences to them".
In 1996 he sponsored legislation that expanded the park vision and created the Ohio & Erie Canalway, a national heritage corridor that celebrates the Ohio & Erie Canal and its importance to the nation. It stretches 110 miles from Cleveland to New Philadelphia and extends the Towpath Trail and Cuyahoga Valley Scenic Railroad. Through the Canalway, the national park has been physically connected to local parks and 40 communities along the Ohio & Erie Canal.
Regula's passion for canal preservation predates his time in Congress. In 1964, the State of Ohio was seeking to dispose of its canal lands. Alarmed at this prospect, Regula worked to have them transferred to his home county, Stark County, in anticipation of future park development. He generated interest in the canal by encouraging extensive newspaper coverage by the Canton Repository. Today, the canal story is told at Canal Exploration Center in Valley View and various locations along the Canalway.