Date:
June 15, 2012
Contact:
Mary Pat Doorley
, 440-546-5995, 440-343-7355 (cell)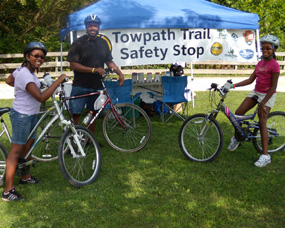 Brecksville, Ohio - This summer, Cuyahoga Valley National Park (CVNP); Ohio & Erie Canalway National Heritage Area; Cleveland Metroparks; Stark Parks; Tuscarawas County Park Department; and Metro Parks, Serving Summit County will once again present Safe is Sound, a safety campaign to reduce accidents and improve trail courtesy on the Ohio & Erie Canal Towpath Trail.
To experience the parks in safe ways, the Safe is Sound program highlights the need for cyclists and all Towpath Trail users to give an audible signal when passing other Towpath travelers. "Keep One Ear Clear" is an added theme this year, encouraging visitors to use only one ear bud for their electronic devices so they can more easily be alerted to passing Towpath traffic.
At designated safety stops on the Towpath Trail, visitors will receive friendly reminders of trail rules, while picking up free bike bells, whistles, maps, stickers, and more.
The following messages are important for users of all ages while using the Towpath Trail:
• Wear a Helmet
• Be Bright, Stay to the Right
• Give Audible Warning Before Passing
• Protect Your Pet, 8 ft leash (it's 6 ft in CVNP!)
• Take Breaks to the Side of the Trail
• Slow Down
• Single File
• Do not Block the Trail
• All Yield to Horses, and
• Remember to Keep One Ear Clear!
CVNP encompasses 33,000 acres along the Cuyahoga River between Cleveland and Akron, Ohio. Managed by the National Park Service, CVNP combines cultural, historical, recreational, and natural activities in one setting. For more information visit www.nps.gov/cuva or call 330-657-2752 or 800-257-9477.
-NPS-