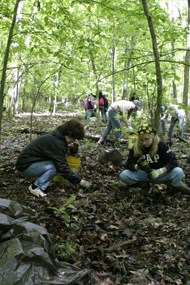 Service plays a large role in Scouting's advancement as well as personal growth and development. There are many opportunities in Cuyahoga Valley National Park to do service projects and action projects. Cuyahoga Valley and Cuyahoga Valley National Park Association offer multiple ways to get involved throughout the park and earn hours toward the Resource Stewardship Scout Ranger certificate or patch.
Drop-in Volunteer Service Opportunities
Help with trail maintenance and/or exotic plant management on an upcoming scheduled session! You do not need to follow the formal application process in order to "drop-in."
Schedule a Volunteer Service Day
If your troop would like to find a more involved group service project or have an idea for a project contact Park Ranger Josh Bates or call (330) 657-2350 to schedule a Service Day.