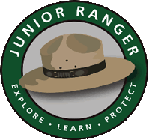 A Junior Ranger is a young person between the ages of 7 and 12 who completes the Junior Ranger activities and promises to help care for and learn more about their national park. Children 4 to 6 years old explore the park on their own level as a Junior Ranger, Jr.

Children can earn a badge by completing activities in the Junior Ranger Handbook or with our Junior Ranger, Jr. cards. Both are available free to the public and can be obtained from CVNP visitor centers. When complete take your book or cards to a visitor center to recive a Junior Ranger badge from a Ranger.
Another Junior Ranger opportunity is to become a
Great Lakes Junior Ranger
, exploring, protecting, and learning about the Great Lakes. Today, there are 15 national parks located on or near the Great Lakes.