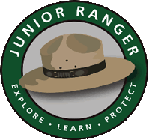 "Explore, Learn, and Protect!" The Junior Ranger motto is recited by children around the country; each taking an oath of their own to protect parks, continue to learn about parks, and share their own ranger story with friends and family.

The NPS Junior Ranger program is an activity based program conducted in almost all parks, and some Junior Ranger programs are national. Many national parks offer young visitors the opportunity to join the National Park Service "family" as Junior Rangers.

Interested youth complete a series of activities during a park visit, and share their answers with a park ranger. Anyone who completes the Junior Ranger Activity Book or the Junior Ranger, Jr. Activity Cards will earn a Junior Ranger Badge. Junior Rangers are typically between the ages of 5 to 12, although people of all ages can participate.

Activity books and cards are available at Boston Store Visitor Center, Canal Exploration Center, and Hunt House. When complete take your book or cards to a visitor center to receive a badge from a Ranger.
Another Junior Ranger opportunity is to become a Great Lakes Junior Ranger, exploring, protecting, and learning about the Great Lakes. Today, there are 15 national parks located on or near the Great Lakes. Visit any of these locations, and complete the activities to receive another badge!