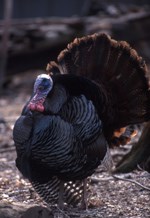 The First American Indians
Paleo-Indian hunters armed with spears likely followed mastodons and other Ice Age mammals into the Cuyahoga Valley about 13,000 years ago, becoming its first people. After the Ice Age, a forest of oak, elm, and maple trees filled the valley. Groups of Archaic Indians hunted the valley's deer, wild turkeys, elk, and bear. They fished the river and streams and also gathered hickory nuts, walnuts, berries, seeds, and other plant foods.
These early inhabitants of the Cuyahoga Valley didn't live in permanent villages. They moved around, following game and gathering the foods in season. The Paleo-Indians probably lived in movable shelters that could be packed-up after days, weeks, or months in a particular camp. These tents may have been constructed of tree branches covered in animal hides, probably from deer. Later Archaic people lived in structures made of wooden posts.
---