Countryside Farmers' Markets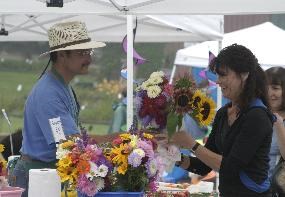 At nine o'clock on Saturday morning the cowbell rings. Within seconds, a stampede of visitors rushes into the market and customers greet farmers at their favorite stands. The farmers' market is one of the best ways for small-scale, local farmers to earn a living and gain publicity. The Countryside Farmers' Markets bring area farmers together to sell and promote locally-grown food, and were one of the first of these markets within a national park. Visit one of the Countryside Farmers' Markets to sample a diverse selection of delicious produce grown by Cuyahoga Valley farmers. Don't buy food from strangers!

---
In Their Own Words
Click the topics to hear stories about Cuyahoga Valley life.
Click here to read the text file
.
A Day at the Farmers' Market (1 minute 29 seconds)
Tomato Tastings and Salsa Competition (1 minute 11 seconds)
Beth Knorr, Local Food Programs Coordinator / Markets Manager, describes some features of the farmers' market.
Selling at the Market (1 minute 6 seconds)
Pamela Neitenbach, of the Neitenbach Farm, shares some of their farmers' market experiences.
---
Click to learn more about
Countryside Farmers' Markets
.
Last updated: May 21, 2020