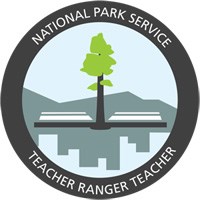 Teachers in Parks
National parks enrich the lives of many in this nation. They provide access to the powerful ideas, values, and meanings associated with the remarkable cultural, natural, and recreational heritage of the United States. The National Park Service (NPS) strives to provide opportunities for all Americans to connect to their national heritage through the national parks. However, these opportunities are lacking for some — often due to a variety of social and economic factors.
The Teacher-Ranger-Teacher (TRT) program offers a solution by linking National Park units with teachers from predominantly Title 1 (at least 30% of students on free or reduced cost meals) school districts. Under TRT, selected teachers spend the summer working as park rangers, often living in the park. They perform various duties depending on their interests and the needs of the park, including developing and presenting interpretive programs for the general public, staffing the visitor center desk, developing curriculum-based materials for the park, or taking on special projects.
Then, during the school year, these Teacher Rangers bring the parks into the classroom by developing and presenting curriculum-based lesson plans that draw on their summer's experience. In April, during National Park Week, Teacher Rangers wear their TRT uniforms to school, discuss their summer as a park ranger, and engage students and other teachers in activities that relate to America's national parks. Teachers may earn graduate credit and get further support through a partnership with the University of Colorado at Denver.
Click here to learn more about the TRT program.
TRT is a stipend-based position for teachers who are currently teaching and will be able to carry out the classroom duties during the 2018-2019 school year.