Brandywine Falls Restroom Improvements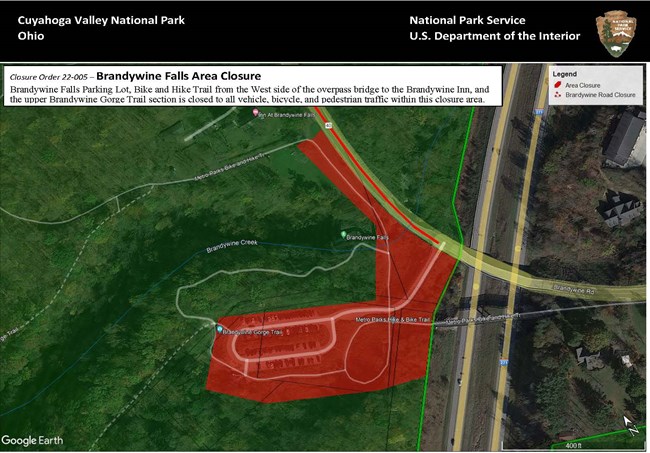 The Brandywine Falls Trailhead is one of the most visited and notable viewing areas in Cuyahoga Valley National Park, showcasing the natural waterfall, Brandywine Falls. The parking lot, upper section of the Brandywine Gorge Trail, and a section of the Summit Metroparks Bike & Hike Trail are closed until September 30. The park will be regularly assessing the area and may open it sooner if it is safe for visitors.

Access the viewing area by parking at Boston Mill Visitor Center and hiking the Stanford Trail. It is approximately 5 miles round trip, and parking typically fills between 10 am and 3 pm. We suggest planning your hike early in the morning or in the evening.

The trailhead (CLOSED UNTIL SEPTEMBER 30) is located off Brandywine Road and includes access to Brandywine Trail (connecting to both the Stanford Trail and Summit Metro Parks Hike and Bike Trail), an asphalt parking lot, and vault system restroom building.

As visitation has increased over the years, the existing restrooms are no longer adequate for public use. The park is constructing new restroom facilities with running water and flush toilets.

In the interim and during construction the park is offering port-a-johns to the visiting public. There are 5 port-a-johns at this location, 3 standard and 2 ADA accessible.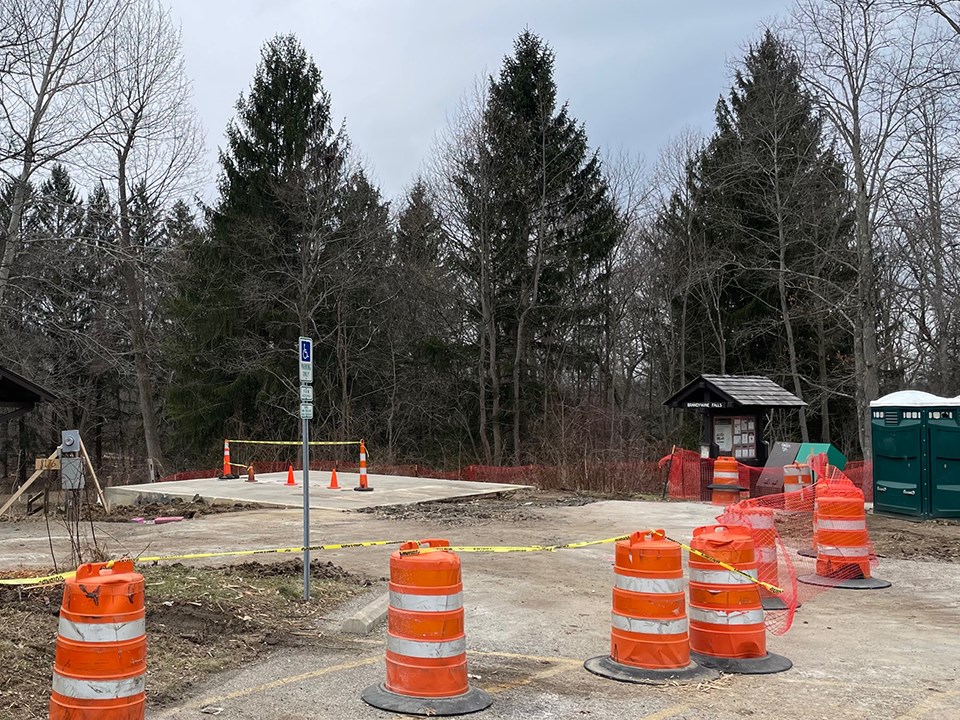 Left image
The old restrooms at Brandywine Falls will be replaced.
Credit: NPS / Amanda Fawcett
Right image
The old restrooms were demolished in March 2022.
Credit: NPS / Eric Semple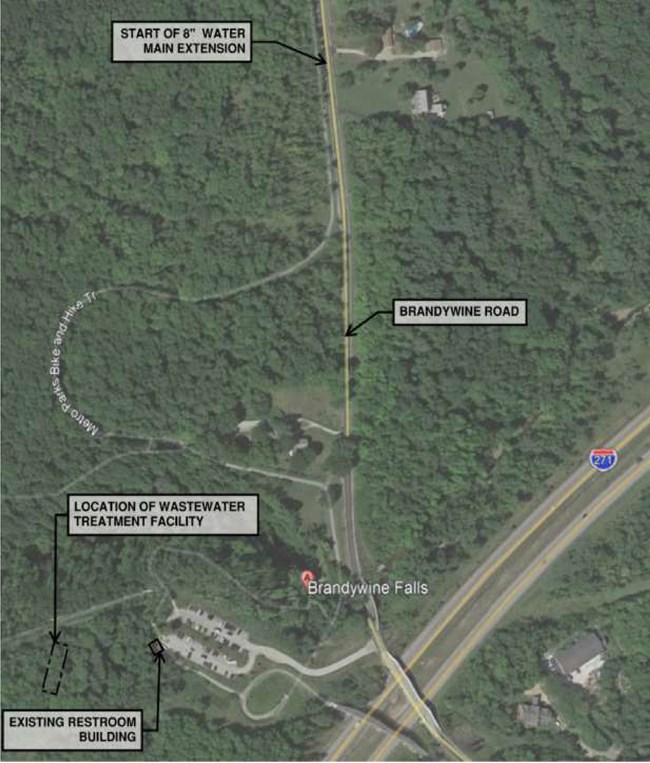 The project includes:
Restroom renovation: Demolition of existing tank style solid waste storage system. Removal of all water closets, urinals, and partition walls which are at the end of their service life and have been compromised. Installation of 5 flushing toilets, 2 ADA flushing toilets, 2 urinals, 1 ADA urinal, and 4 lavatories along with all associated connections to a new waste management system with installation of a furnace in basement for heat to prevent water freeze.

Sanitary sewer system: Install a wastewater disposal system for treatment of solid waste generated by park visitors. The system will be located west of the restroom building and will include a 285 LF directional bore of 4" sanitary sewer pipe.
Water main extension: Install 1,585 linear feet of 8" diameter water main and service line in coordination with Cleveland Water through a Right-Of-Way permit. The water main will start north of the site and will follow the alignment of Brandywine Road and Summit Metro Parks Hike and Bike Trail. The contractor will then coordinate closely with Summit Metro Parks on any necessary trail closures.
Last updated: May 5, 2022