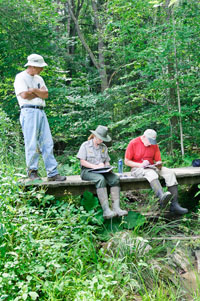 CVNP VOLUNTEER HANDBOOK
The Volunteer Handbook is designed as a reference and guide to Cuyahoga Valley National Park (CVNP) and our Volunteers-in-Parks Program. The Handbook was updated October 2014 and we invite you to devote special attention to the updated uniform (pg 14), workers' compensation (pg 29), and training (pg 34;66) sections. Click here to download your copy of the updated 2016 CVNP Volunteer Handbook.
Addendums to the CVNP Volunteer Handbook:
- Uniform Policy
Click here to download the Uniform Policy.
- Injury and Workers' Compensation Policy for Volunteers
Click here to download the Workers' Compensation Policy.
---
CVNP VOLUNTEER ORIENTATION
This orientation is designed to provide prospective volunteers with information about the park's mission, vision, and partners. Learn about CVNP's expectations and standards for volunteers and gain confidence as a CVNP volunteer. We also introduce those in attendance to over 100 volunteer positions that the park offers. Location given upon registration.