Cuyahoga Valley Trails Council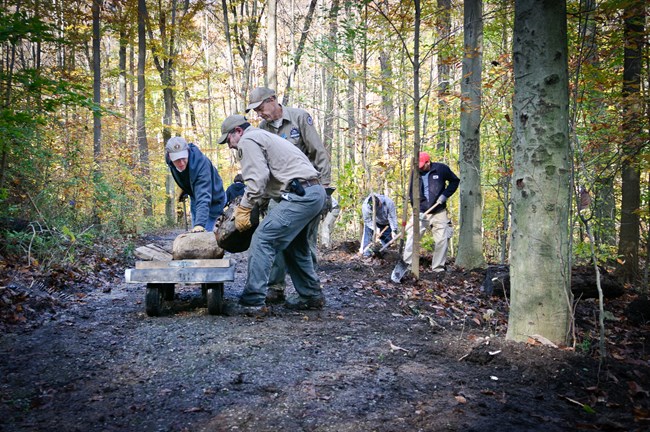 About Cuyahoga Valley Trails Council
Cuyahoga Valley Trails Council (CVTC) is an all volunteer non-profit organization dedicated to improving the trails in Cuyahoga Valley National Park (CVNP). With guidance from the National Park Service (NPS), CVTC coordinates monthly trail repair projects and leads projects on CVNP's Days of Service. CVTC is not a membership-based organization; all are welcome to participate in CVTC-led projects. To sign-up for the monthly newsletter, E-Trails, send an email to info@cvtrailscouncil.org with the subject "Subscribe."
Schedule
Trail repair projects are typically scheduled once a month (March - December). Volunteers clear new trails, install drainage systems, build bridges and steps, and perform many other vital maintenance functions. Fully trained crew leaders direct each project. Great opportunity for fitness–these projects range from moderate to strenuous in physical activity.
For meeting location and information about our next work session, visit the Cuyahoga Valley Trails Council website or contact us.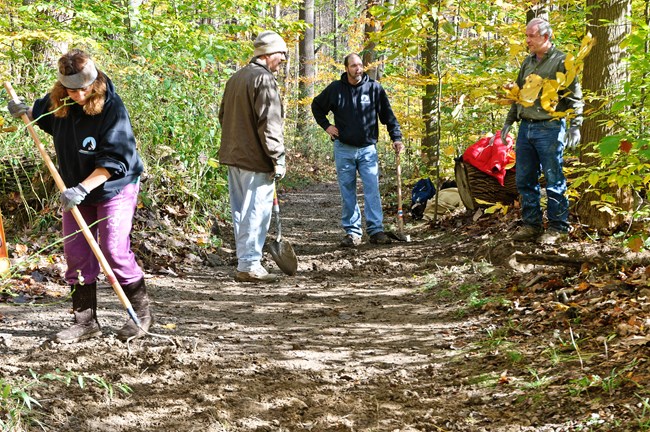 Things to Know Before Volunteering on a CVTC Project
Bring your completed Trail Worker Agreement Form.

E

mail

volunteer@forcvnp.org

. to receive a form. Crew leaders will also have Volunteer Agreement forms

available on the day of the sweep.

Volunteers 10-14 need to have adult supervision; all volunteers under age 18 need to have their Agreement Form signed by their parent or guardian. Ages 10 and up.

Wear comfortable work clothes, long sleeves, and long pants. Sturdy work boots required (not open-toed).

Bring a small pack with a filled water bottle, lunch, work gloves, and hat.

Wear sunscreen and insect repellant.

Tell an on-site CVTC crew leader how long you can volunteer that day. You can choose the length of your volunteer shift, as long as it is earlier than CVTC's end time of 3:30 p.m. All volunteers have to start at 9:15 a.m. for the project and safety orientation.

Projects are held rain or shine, with exception to lightning and thunderstorms.
Groups who are interested in volunteering with CVTC should call CVNP's volunteer office at 440-717-3846 as far in advance as possible.
Please sign up to receive CVTC's newsletter
E-Trails
, and to be notified about updates to CVTC projects. Email
info@cvtrailscouncil.org
with the subject "Subscribe."
Special Projects
Stanford Trail Bridge

: In 2008, CVTC purchased and installed the $15,000 fiberglass bridge on the Stanford Trail.

Brandywine Gorge Trail Bridge:

In October 2009, CVTC helped assemble and install the Brandywine Gorge Trail Bridge, a 3-section, 165-foot long, fiberglass bridge spanning Brandywine Creek. Read more.

Blue Hen Falls Trail Bridge:

In June 2012, CVTC helped disassemble the old bridge and build the new Blue Hen Falls Bridge, a 70-foot long fiberglass truss bridge. Click herefor photos.
---
Publications
The CVTC produces the popular
Trail Guide Handbook: Cuyahoga Valley National Park
, a comprehensive guide to all the trails in CVNP and
The Nature of the Towpath
, a natural history guide to the Towpath Trail. CVTC publications are available at
Boston Store Visitor Center
and at numerous outfitters, bookstores, and specialty shops in Northeast Ohio. Proceeds from the books support CVTC activities.
Last updated: November 26, 2018