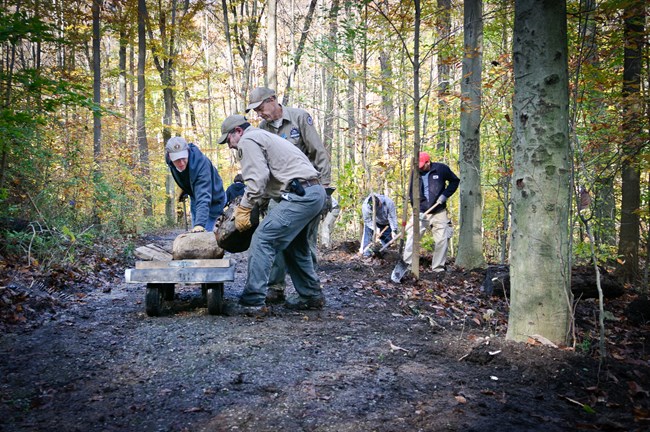 About Cuyahoga Valley Trails Council
Cuyahoga Valley Trails Council (CVTC) is an all volunteer non-profit organization dedicated to improving the trails in Cuyahoga Valley National Park (CVNP). With guidance from the National Park Service (NPS), CVTC coordinates monthly trail repair projects and leads projects on CVNP's Days of Service. CVTC is not a membership-based organization; all are welcome to participate in CVTC-led projects. To sign-up for the monthly newsletter, E-Trails, send an email to info@cvtrailscouncil.org with the subject "Subscribe."
Schedule
Trail repair projects are typically scheduled once a month (March - December). Volunteers clear new trails, install drainage systems, build bridges and steps, and perform many other vital maintenance functions. Fully trained crew leaders direct each project. Great opportunity for fitness–these projects range from moderate to strenuous in physical activity.
For meeting location and information about our next work session, visit the Cuyahoga Valley Trails Council website or contact us.