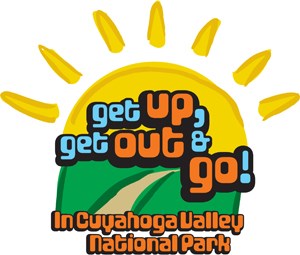 ---
Get Up, Get Out & Go! to your local parks for FREE fun-filled activities this summer!
---
What Is It?
Get Up, Get Out & Go! (GGG) is an outdoor recreational program for kids ages 11 to 14 and their families to get out into their national park, Summit Metro Parks, and Cleveland Metroparks. All activites are FREE and open to the public.
Regular programs are every Tuesday and Thursday. All programs are from 7 to 9 p.m., unless otherwise noted, and include a train ride, camping skills, night hiking, games, cycling, and fishing. Locations vary.

Check the parks scheudle of events, and online calendar for events.

How to Participate
Registration is encouraged. For more information contact Park Ranger Pamela Machuga at e-mail us or 440-343-7035.

Thank You to Our Community Partners
Get Up, Get Out and Go! is sponsored by Cuyahoga Valley National Park, Conservancy for CVNP, Sisters of Charity Foundation of Cleveland and Cleveland Clinic. Campaign partners include Summit Metro Parks, Cleveland Metroparks, Slavic Village Development, YWCA of Greater Cleveland, Akron Public Schools, and the Akron Recreation Bureau.