Brandywine Gorge Trail Bridge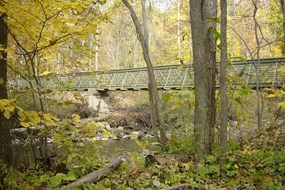 ---
Brandywine Gorge Trail Bridge
---
In October 2009, the Cuyahoga Valley Trails Council (CVTC) volunteers worked alongside National Park Service (NPS) staff to assemble and install the Brandywine Gorge Trail Bridge, a 3-section, 165-foot long, fiberglass bridge spanning Brandywine Creek.

This is the first completed project of TRAILS FOREVER, a program that undertakes capital improvement projects for existing trails within the park. These efforts will take the park's trail system to the highest standards of design and operation.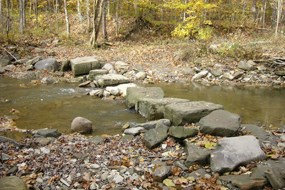 The new bridge replaces hazardous stepping stones. Regardless of high water, the bridge now ensures that hikers can complete the trail year round. Previously, the stones would move during high water events requiring NPS staff and equipment to reset them several times a year. With the new bridge, visitor safety is improved while protecting the aquatic resources in Brandywine Creek. The new bridge provides a longer span than the stepping stones, placing the structure beyond a 100-year flood event to avoid future problems.
NPS staff planned and directed the installation with the assistance of volunteers working from October 17 through October 22 from 8 am to 4 pm. Bridge components were hand carried to the site and assembled, eliminating the need to remove trees for heavy equipment access, thereby preserving natural resources.
Kim Norley, NPS Landscape Architect and project manager commented, "Without the help of the CVTC volunteers, this bridge would not have been accomplished. This project illustrates a great collaborative effort between NPS staff and volunteers to improve visitor safety and resource preservation."
Mike Brittain, Vice-President of the CVTC stated, "I think everyone, both NPS staff and volunteers alike, worked well together to create one of the most enjoyable, memorable experiences they'll ever have to take away from the park."
Bridge Construction Facts
Project Cost:

$225,000 from NPS Fee Funding

Bridge Specifications:

165 foot x 4 foot Fiberglass Truss Bridge
Three spans (35 feet, 65 feet, 65 feet)
Fabricated by E.T. Techtonics, Inc.
Weight: 30,000 pounds
The Brandywine Gorge Trail is located at 8176 Brandywine Road, Sagamore Hills 44067, (81° 32.264' W) (41° 16.580' N).

TRAILS FOREVER is a multifaceted initiative that builds on existing strengths of the national park, Conservancy for Cuyahoga Valley National Park, and our volunteers. Its purpose is to ensure that CVNP has a top-quality trail system in perpetuity, insulated from fluctuations in federal funding by a strong base of local support. The five tenets of TRAILS FOREVER are experiences, volunteerism, planning, trail enhancement, and philanthropy.
To learn more about the initiative visit the Conservancy's website.
---
Cuyahoga Valley Trails Council (CVTC) works with the National Park Service to carry out the development of the planned network of over 200 miles of trails in Cuyahoga Valley National Park (CVNP). With guidance from the National Park Service and from CVNP's 1985 Trail Plan, the CVTC sponsors numerous trail work projects which involve both the maintenance of existing trails and the development of new trails.
To learn more about the CVTC visit www.nps.gov/cuva/supportyourpark/trails-council.htm.
Volunteer Contribution
52 Volunteers
780 hours
Equivalent of $15,795 work hours

Project Volunteers

Cuyahoga Valley Trails Council Board Members:
President- Dave Daams, VP- Mike Brittain, Tom Fritsch, Joan Greenberg, Bill O'Brien, Kathleen Pettingill, Mike Wendelken, Gene Wimmer
Cuyahoga Valley Trails Council and Adopt-a-Trail Volunteers:
Ryan Bollas, Bill Bourquin, Richard Brittain, Jeri Bryant, Dave Burgan, Amanda Cox, Matthew Cox, Shaun Cox, Tom DiNardo, Henry Fortlage, Aaron Gordon, Kathy Gottschalk, Damon Grabski, Larry Grewe, Sue Harb, Jerry Hentsch, Chuck Hicks, Hunter Hicks, Phil Karlson, Mike Kosmyna, Mark Kroczynski, John McDowell, Keith Miles, Andrew Mueller, Tim Murphy, Sara Murphy, Geoffrey Neeson, Joel Newman, Evan Nolan, Bennett Norley, Carys Norley, Owen Norley, Tim Peters, Gary Prospero, Jim Reagan, Steve Schadelbauer, Brett Smigel, Mike Trinko, Don Turpin, Kevin Tuttle, Joe Vitanza, Jeff Watkins, Mark Watkins, Paul Wokoun
---
Last updated: September 2, 2022