B.A.R.K. Rangers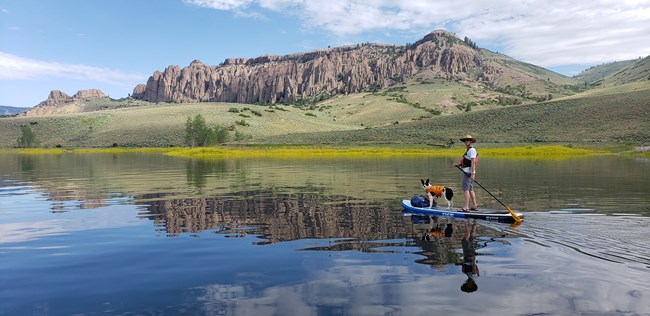 The B.A.R.K. Code:
Bag your pet's waste
Always leash your pet
Respect wildlife
Know where you can go

To be a B.A.R.K. ranger, you must adhere to the B.A.R.K. code, and complete one of the following activities:
Hike a Trail
All trails in Curecanti National Recreation Area are leashed-dog friendly. Many Curecanti trails go through critical wildlife habitat, or pass near cliffs or dangerous rapids. By keeping your dog on a leash, you're keeping your dog safe and protecting wildlife.
Play in One of the Reservoirs
Enjoy some of Blue Mesa Reservoir's 96 miles of shoreline. Remember to use a poop bag and dispose of it in the trash.
Go for a Boat Ride
Hang out on a boat with your pup. Go paddleboarding, out on a motorboat,
canoeing or any other boating you do best. Remember to wear your PFD and put one on your pet!

The B.A.R.K. Ranger program is free! Ask a ranger about what areas are open to dogs and what safety precautions should be taken. After a ranger at the Elk Creek Visitor Center has approved your B.A.R.K. Ranger status, you can receive a B.A.R.K. Ranger sticker.

Note: Except for service animals, pets are not allowed in federal buildings. (https://www.ecfr.gov/current/title-36/chapter-I/part-2/section-2.15)

When you post photos of your pets on a social media site, be sure tag us and to use #BarkRanger or #CurecantiNationalRecreationArea. Browse photos of B.A.R.K. Rangers and join a community of thousands from across the nation and the world!
Explore B.A.R.K. Programs
Last updated: March 9, 2023