COVID-19 Safety
UPDATE 9/8/2022: Face coverings are REQUIRED in all park buildings, and are still REQUIRED while riding inside the cabin on the ferry, and on the Lands and Legacies tour.
Consistent with CDC guidance, areas of substantial or high transmission, visitors to Cumberland Island National Seashore, regardless of vaccination status, are required to wear a mask inside all park buildings.

Cumberland Island has entered into phase two of our adaptive recovery plan. Read on to see what this means for your visit.
As the National Park Service (NPS) monitors and responds to the COVID-19 pandemic, we work closely with the NPS Office of Public Health to use the latest science to guide our decision making.  Access to Cumberland Island National Seashore is as follows:
Open:
· Beginning September 4, 2021, Plum Orchard Mansion opens daily for tours at 11:00 am, 1:00 pm, and 2:00 pm. Tour capacity is reduced to 10 people per tour.

· Mainland Visitor Center in St. Marys, Georgia is open daily from 8:00 am to 4:00 pm with capacity limits.
· Ferry service is at full capacity. See www.cumberlandislandferry.com for more information.
· Mainland Museum in St. Marys, Georgia is open daily from 1:00 pm to 4:00 pm with capacity limits.
· Sea Camp Ranger Station located at the Sea Camp Dock on the island is open from 9:45 am to 4:30 pm daily with capacity limits, limited public programming.
· Ice House Museum located at the Dungeness Dock on the island is open from 9:45 am to 4:30 pm daily with capacity limits.
· Walking tours are offered based on staff availability.
· Public restrooms are open on the mainland until 4:00 pm; on the island until 4:30 pm.
· All park trails are opened unless otherwise alerted due to extenuating circumstances.
· Commercial Use Authorizations with appropriate mitigation.
· Special Use Permits as appropriate to phase of re-opening.
· Camping at full capacity at Sea Camp, including group sites, Stafford Beach, and all three wilderness areas: Hickory Hill, Yankee Paradise, and Brick Hill Bluff. Concession cart rentals are open.
· Public docks are located on the north end of each dock, Dungeness, Sea Camp, and Plum Orchard. Each is open from sunrise to sunset on a first come first served basis for boats under 25-feet.
Closed:
· Concession on-island bike rentals suspended until new bikes arrive; supply has been disrupted by impacts of Covid-19 on manufacturing and delivery.

While the listed areas are accessible for visitors to enjoy, services may be limited. Check the park's website and social media platform, for updates as operations are changing regularly.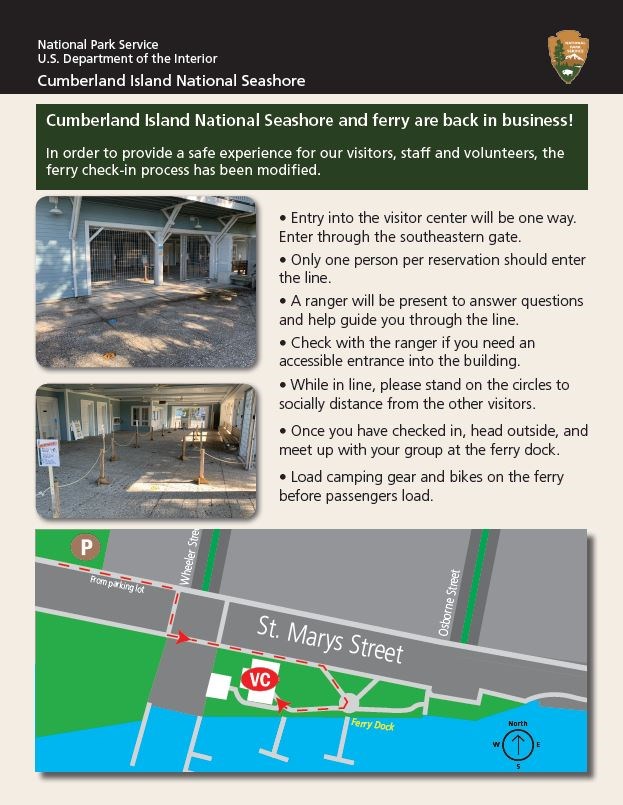 The ferry check-in process has been been modified to provide a safe expereince for our visitors, staff and volunteers.
Entry into the visitor center will be one way.
Enter through the southeastern gate.
Only one person per reservation should enter the line.
Face coverings are REQUIRED inside the visitor center.
A ranger will be present to answer questions and help guide you through the line.
Check with a ranger if you need an accessible entrance into the building.
While in line, please stand on the circles to socially distance from the other visitors.
Once you have checked in, head outside, meet up with your group and head to the ferry loading zone.
View the check-in checklist and map here.
View the Text Alternative to this graphic here.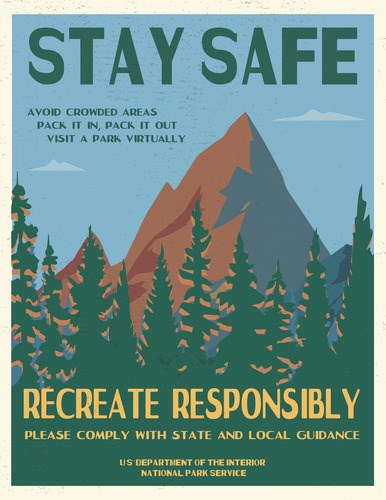 Parks can fill our needs to be inspired, to find solace, and to connect with the world around us. With this in mind, we will approach our phased reopening by balancing the protection of these places with the protection and enjoyment of our visitors.
The CDC has offered guidance to help people recreating in parks and open spaces prevent the spread of infectious diseases. We will continue to monitor all park functions to ensure that visitors adhere to CDC guidance for mitigating risks associated with the transmission of COVID-19, and take any additional steps necessary to protect public health.
As services are limited, the National Park Service urges visitors to:
Wash your hands for at least 20 seconds with soap and water.
Park only in designated areas.
Pack out everything you bring into a park.
Plan a visit at times other than busiest of the day.
Maintain social distance from other visitors.
If you encounter a crowded trail-head or overlook, go elsewhere.
Visiting Parks Safely
The CDC has issued guidance on how to safely visit parks and open spaces to prevent the spread of infectious disesases
View the guidance here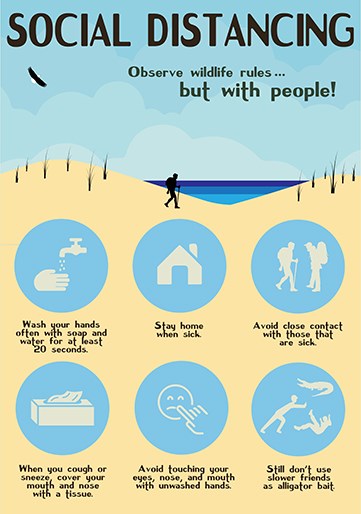 Help us slow the spread
View the text alternative for the Social Distancing graphic
While many parks are increasing recreational access for visitor enjoyment, a return to full operations will continue to be phased and services may be limited. We ask the public to please recreate safely and responsibly. Avoid high-risk outdoor activities, follow local area health orders, practice
Leave No Trace principles
, and avoid crowding.
To see the latest updates for Cumberland Island, view our
news releases
or
FaceBook page
.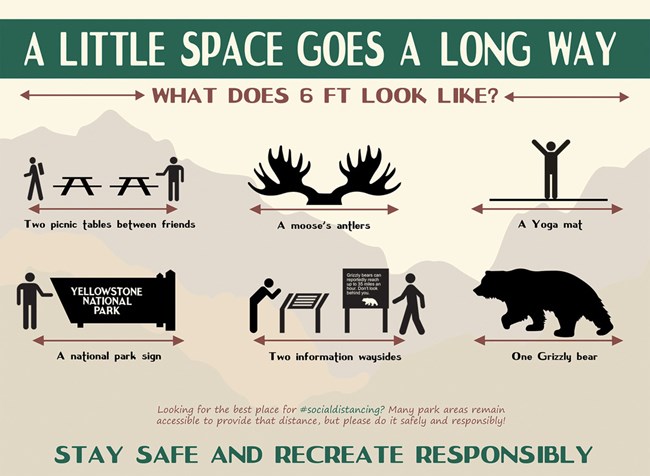 Local health orders can be found here:
Camden County, GA
Glynn County, GA
Charlton County, GA
Nassau County, FL
Duval County, FL
The health and safety of our visitors, employees, volunteers and partners continues to be paramount. At Cumberland Island National Seashore, our operational approach will be to examine each facility function and service provided to ensure those operations comply with current public health guidance and will be regularly monitored. We continue to work closely with the NPS office of Public Health using CDC guidance to ensure public and workspaces are safe and clean for visitors, employees, partners and volunteers.
What is Open?
Only certain facilities and spaces are currently open on the island. Make sure you know before you go.
See what is open
Last updated: September 8, 2022