Indoor Activities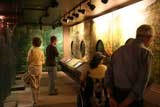 Visitor Center
The park visitor center houses a museum with interactive exhibits, book sales outlet, and an auditorium with 2 high definition films. The visitor center is fully accessible with designated parking and an elevator.
The park visitor center is open daily from 9:00 a.m. until 4:00 p.m. Eastern time. It is closed on Christmas day.
Park Films
Two high definition films are shown throughout the day in the visitor center auditorium. Both films are closed captioned.
The story of the early pioneers' and settlers' migration west through Cumberland Gap comes to life in the high definition film Daniel Boone and the Westward Movement. This film lasts 23 minutes.
The Cumberland Gap takes a close look at the fantastic natural and historical features found in the park. It is a great orientation to the park and its many facets. This film lasts 11 minutes.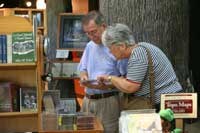 Eastern National Bookstore
The book sales outlet in the visitor center carries a number of books, souvenirs, games, postcards, and numerous other items related to the park and its many stories.


Last updated: July 6, 2020