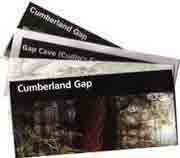 Brochures and maps are available at the park visitor center.
Maps and brochures can also be downloaded here.

Upon request the Cumberland Gap National Historical Park Official map and Guide will be mailed to you.
Brochures on local attractions are also available.
To receive brochures by mail, please contact the park with your name and address.
by E-mail:
e-mail us
or Write to:
Cumberland Gap National Historical Park
91 Bartlett Park Road
Middlesboro, KY 40965
or Call:
(606) 248-2817