Winter
Recreate Responsibility
When recreating, please follow local area health orders, practice Leave No Trace principles, and avoid crowding and high-risk outdoor activities. The CDC has offered guidance to help people recreating in parks and open spaces prevent the spread of infectious diseases. We will continue to monitor all park functions to ensure that visitors adhere to CDC guidance for mitigating risks associated with the transmission of COVID-19 and take any additional steps necessary to protect public health.
Winter 2022
This winter, the park will not be offering weekend guided snowshoe hikes. However, snowshoes can be borrowed at the visitor center. Exploring the winter landscape through snowshoeing or by skiing offers a chance to discover the striking contrast of white snow on black lava.

Please visit Current Conditions, for the latest updates.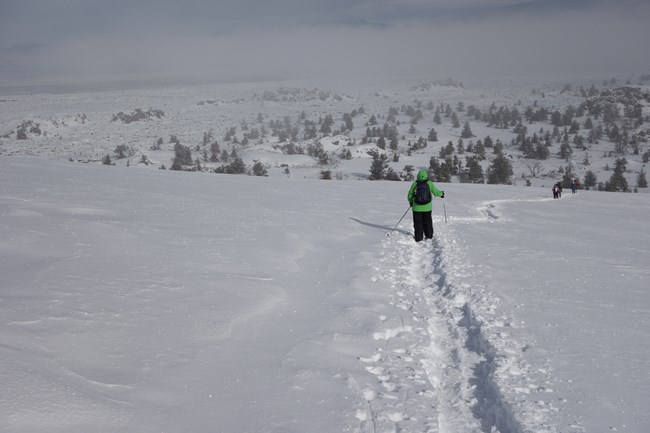 Enjoy the Winter Landscape
Winter at Craters of the Moon starts as early as November and lasts through March due to the park's latitude and altitude (5,900 ft/ 1.8 km). Typically, by mid-November, the Loop Road closes so that the road can get a good base of snowpack for skiing and snowshoeing. Usually by January, the road is groomed regularly in the winter for cross-country ski track and snowshoeing.
Winter temperatures can dip below zero degrees Fahrenheit and blizzard conditions can occur during any winter month. When visiting the park in the winter, be sure that you come prepared and check the weather before leaving home. Motor vehicles are not permitted beyond the visitor center parking lot. Ski, snowshoe, or hike in designated tracks along the Loop Road. Please remember the following:
No Pets: Pets tear up the groom track and detract from the skiing experience for others. They may also frighten wildlife.
No Rock Collection: All natural features are protected by law and must be left unchanged for others to enjoy.
Water: Fill your water bottles at the visitor center during business hours. The park is open 24-hours per day.
No Bicycles: Bicycles, including snow bikes, are not permitted on the Loop Road during winter.
No Wood Fires: Open fires and wood fires are prohibited. You may use a stove or burn charcoal in established fire grills.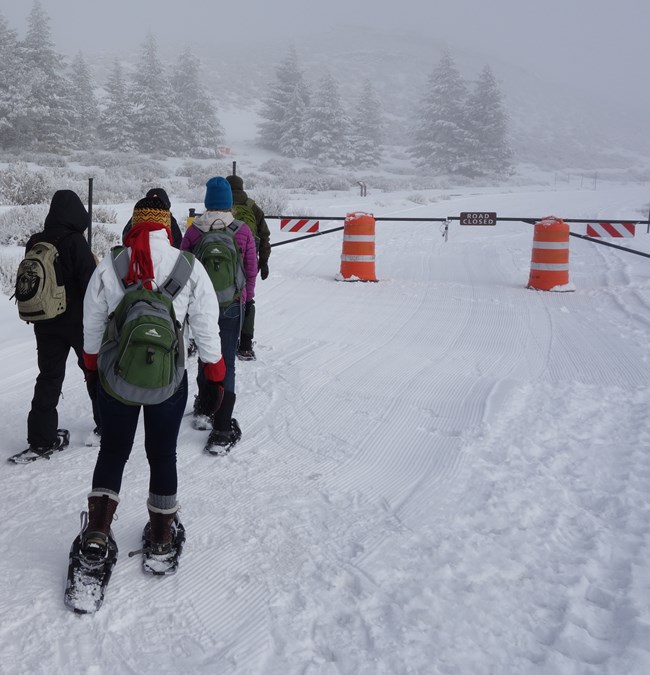 Borrowing Snowshoes
In the winter, Craters of the Moon Natural History Association has snowshoes available at the visitor center between the hours of 9:00 am and 2:00 pm Wednesday through Sunday. Snowshoes must be returned to the visitor center by 3:00 pm. Donations are accepted for the use of the snowshoes.
Using Snowshoes
Visitor center staff will briefly demostrate how to put on and use the snowshoe. Please stay on far right of groomed Loop Road and retrace your steps (far left) when coming back. Stay on the cinder cones and don't cross the lava flows.
Last updated: January 10, 2022