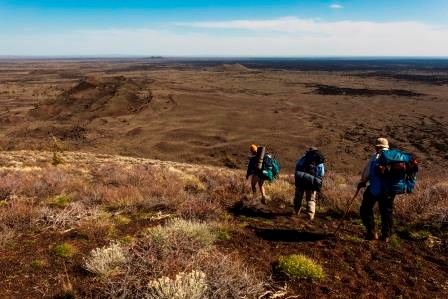 The Wilderness Act of 1964 recognized wilderness as as "an area where the earth and its community of life are untrammeled by man, where man himself is a visitor who does not remain". This definition has always fit a large portion of Craters of the Moon. Designation of the 43,243 acre Craters of the Moon National Wilderness Area was signed into law on October 23, 1970. With that legislation lands within Craters of the Moon National Monument and Petrified Forest National Park became the first within the National Park System to be designated as wilderness.
Expansion of the Monument in 2000 included another 495,000 acres of adjoining lands already determined by the Bureau of Land Management to be worthy of wilderness designation. These lands remain undeveloped and are managed to ensure they will continue to qualify as wilderness while Congress ponders the issue. All but the north end of the wilderness lies adjacent to the Great Rift Wilderness Study Area (it formally received presidential recommendation for wilderness designation in 1985).
Recreational use of the wilderness area has remained limited. Fewer than 100 people a year obtain overnight camping permits for the area. The entire area is snow covered and virtually inaccessible for at least 1/3 of the year. The vast majority of overnight wilderness users hike the Wilderness Trail and camp inside of Echo Crater. Stock use is restricted to day use on the Wilderness Trail. No overnight camping with stock is permitted.