North End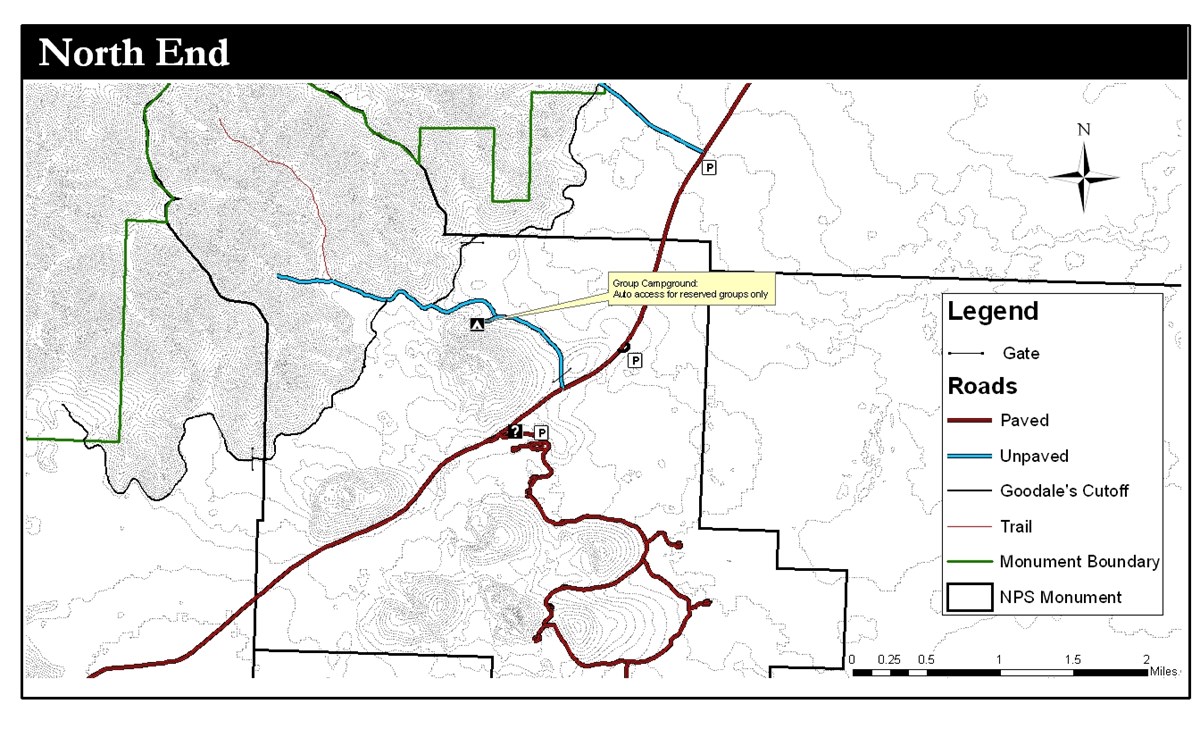 The North End is where Craters of the Moon meets the Rocky Mountains. Located across Highway 20/26/93 from the Visitor Center, the northern portion of the monument extends into the foothills of the Pioneer Mountains. This area covers less than 1 percent of the monument, but includes immensely different and important habitat types. In contrast to the developed loop drive, the North End's lava flows and cinder cones are older and therefore densely vegetated with sagebrush, aspen, willows, and Douglas-fir trees.
The slopes of the Pioneer Mountains also contain numerous springs that feed small creeks and wetlands. While exploring this vastly different landscape, visitors may encounter several species of water-loving plants, waterfowl, and perhaps even a moose or black bear!
Whether hiking or camping in the group site, the North End is a great place to explore the rich diversity that this national park has to offer.
Access and Activities
Public access to the North End is restricted to protect sensitive biological resources, the park's drinking water supply and your safety. All users must obtain a free backcountry permit from the Visitor Center before visiting this unique area. No permits will be issued during periods when big game hunting is authorized by state law on adjoining lands. Access to caves and mine shafts in this area is prohibited for the protection of sensitive bat species that reside here. Please do not tamper with any park utilities or equipment .
No motorized vehicles are permitted in this area except for visitors with group campground reservations. Day-users must park at the Visitor Center or at the overlook located .25 miles east of the access road on U.S. Highway 20/26/93.
A segment of the Oregon Trail runs through the monument and may be explored by foot. This alternate route, originally established in 1852, gained popularity with settlers nearly a decade later when relations with Native Americans along the main route of the Oregon Trail became strained.
To avoid conflict, Tim Goodale successfully led 338 wagons across the northern Snake River Plain. Travel around the northern edge of the lava flows was quite a memorable experience for the many emigrants who used this route.
The North End is also home to the group campground for Craters of the Moon. Located in a sheltered area at the base of Sunset Cone, the group site offers the advantage of privacy and seclusion. Wood fires are permitted at this site pending current fire restrictions, but you must bring your own wood to burn. The campground offers a vault toilet and spigot providing potable water. This site is available only by reservation through Recreation.gov.
Last updated: April 24, 2020