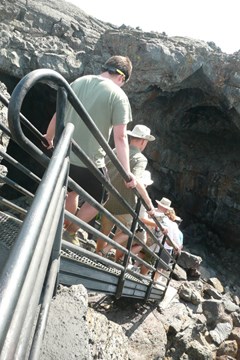 Caves of Molten Stone
The caves area contains many stark contrasts: searing heat on the black surface versus the cool of the cave interiors, roaring afternoon wind versus the dampened stillness below ground, brilliant light and expansive views versus the enclosed darkness of the lava tubes. The drama of these contradictions draws people into this strange world.
Obtain a Permit Before Entering the Caves
Plan ahead and do not bring in any items that have entered any previously visited cave or mines. Help us protect the bats found at Craters of the Moon by
preventing the spread of White-nose Syndrome. If you are planning on entering the caves, obtain a free permit at the
entrance station, Visitor Center or on Ranger guided walks.
Help Preserve the Caves and Cave Residents
Please do not bring food into the caves or leave trash in the caves. There is a trash can located in the parking lot. Remember that all cave features are fragile and irreplaceable. Do not remove any rocks or other objects from the caves area.