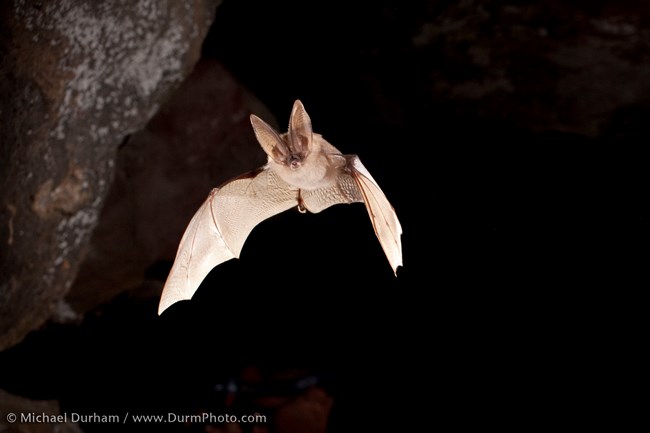 The many hundreds of caves at Craters of the Moon provide important habitat for bats to roost, raise a family and hibernate. Bats are a critical ecological component of both the subterranean and surface environments in and around the park.
Eleven species have been documented in the park, and as many as five others may occur here (species have been documented close enough to likely occur here and/or the park is within the species' known range). Three of the four known maternity colonies of the
Townsend's big-eared bat
(Corynorhinus townsendii) documented in Idaho are found at Craters of the Moon.
Migratory
Bats
Four migratory species may pass through the area: the hoary bat (Lasiurus cinerus),the silver-haired bat (Lasionycteris noctivagans), the western red bat (Lasiurus blossevilli) and the Mexican free-tailed bat (Tadarida brasiliensis).
Hibernating Bats
Little is known about where bats are hibernating within the park. In fact, only five caves are documented as hibernation sites. Townsend's big-eared bats are known to hibernate at four of these sites. Other species tentatively identified (through photo ID) as hibernating here include; little brown myotis (Myotis lucifugus), long-eared myotis (Myotis evotis), western small-footed myotis (Myotis ciliolabrum), big brown bat (Eptesicus fuscus) and Yuma myotis (Myotis yumanensis). California myotis (Myotis californicus) are also suspected to hibernate here.
Several other hibernating species have been documented in the park, including long-legged myotis (Myotis volans), fringed myotis (Myotis thysanodes) and Pallid Bat (Antrozous pallidus). The canyon bat, or Western pipistrelle (Parastrellus Hesperus), has been documented near Burley and is likely present in the Wapi lava field (Munts 2011). Hibernacula for these species have not been identified due to the lack of survey information and/or the difficulty in identification without handling. There are no records of the spotted bat (Euderma maculatum) however; the park lies within the known range of this species.
Little brown bats (Myotis lucifugus) are among several species that have been devastated by White Nose Syndrome in the eastern U.S. and Canada. Petitions for emergency listing of the Little Brown Bat on the Endangered Species list have been submitted to the U.S. Fish and Wildlife Service citing recent studies indicating a 99% likelihood of the regional extinction of the species by 2026. The little brown bat is the most common species of bat found within Craters of the Moon National Monument and Preserve (CRMO). Therefore, the spread of White Nose Syndrome and its impact on bat populations within the park is of great concern.
More...