Field Trips
Fall and Spring Field Trips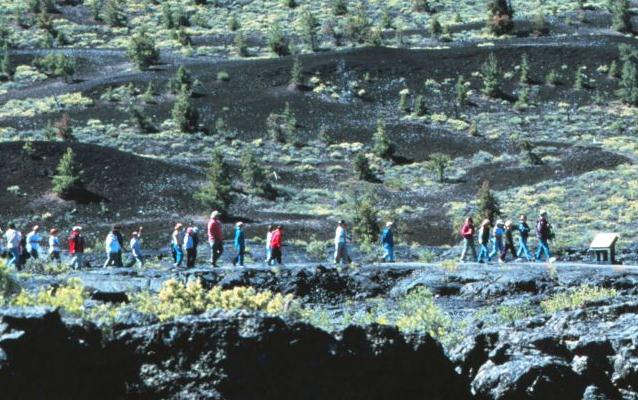 Description
Craters of the Moon National Monument is an exceptional area to study volcanic geology and the plants and animals native to Idaho's high desert. Educators are encouraged to integrate this outdoor classroom into their curricula.
Reservations and Dates
We are currently accepting reservations for Spring field trips (April 20 - May 22). These dates have been selected to coincide with the normal opening of the loop drive and trails through the monument as well as periods when adequate staffing is available at the monument to assist school groups.

Reservations may be made by contacting park staff:
208-527-1335
email
Reservations and an orientation are required for all visiting school groups. Reservations are taken on a first come first served basis for about 150 students per day to eliminate conflicts between groups competing to utilize the same park sites. Important safety and resource protection information is provided by the Ranger to each group during the orientation. 
 
Registration guarantees your group an orientation and an educational fee waiver for your visit. For those groups who choose to visit the monument without securing a fee waiver or attending an orientation, the standard entrance fees will be charged.
Orientations
Orientations are presented by the ranger staff at the visitor center for as many as 150 students per day during the reservation period. Orientation talks include a brief explanation of the National Park Service mission, Monument significance, safety, and student conduct.
Student Conduct
The following regulations should be discussed with your group prior to their arrival at the monument. All the natural features within Craters of the Moon are protected. Collecting of rocks is strictly prohibited. Since walking or climbing on the fragile lava rock can cause irreversible damage, all visitors to the North Crater Flow, Spatter Cones, and Big Craters areas are required to stay on the paved walkways. If you have an opportunity to view the wildlife found at Craters of the Moon, use caution not to disturb the animals. Feeding, handling, or harassing wildlife is prohibited. All litter must be disposed of properly.
Safety
In order to have a safe educational visit, precautions must be taken. Since lava rock is sharp and any fall may result in an injury, running, pushing, or horseplay in general can lead to serious accidents. Because of the danger of falling, extreme caution and supervision is required around the Spatter Cones and Big Craters area. Keep students a safe distance from the crater's edge. The caves, often totally dark with low ceilings, small crawlways and rocky floors, must be approached cautiously with safety a primary consideration. A reliable source of artificial light is needed for all caves. In early spring you may find either all or some of the caves closed because of hazardous ice and snow conditions within them--call ahead and check on their status. Even after the caves are open, some will still contain ice and extra caution should be exercised. In the event of an accident, contact the nearest Ranger.
Group Size and Supervision
Group size should be limited to a maximum of 50 students. Groups larger than this have difficulty staying together on the trail and students may have difficulty hearing the group leader. If your group is larger than about 30 students, we suggest that you divide your group into smaller groups, providing each group with its own leader. The smaller the group, the more individual students will gain from the experience. There should be at least one adult for ten students. Leaders and adults must remain with the group at all times.
Educational, resource, and safety concerns are all served by providing good supervision.If students have brought money to spend in the bookstore, chaperones must be in attendance.Students without money should not be handling the merchandise.The visitor center museum has limited floor space that can be quickly overwhelmed by school groups. If you choose to bring students into the museum they must be quiet and respectful of other visitors, otherwise they will be asked to leave.
Weather
The 7-mile Loop Drive through the park is closed from approximately November 1st to April 15th. The weather at Craters of the Moon is unpredictable. At an elevation of 5,900 feet, cold, windy, or snowy weather is often possible even in late May. Canceling a field trip at the last moment is awkward, but trips in snow and rain are rarely enjoyable or safe. There is no sheltered or indoor area groups can utilize. It is advisable to call ahead if bad weather seems a possibility.
What to Bring
Each member of your group should bring the following: lunch if you plan to eat at the monument, a water bottle, clothing layers to stay warm and dry, long pants (shorts offer no knee protection if a student falls down), sturdy shoes or boots (no sandals or open toed shoes), and one flashlight per person if you plan to visit the caves area. A camera, binoculars, or hand lens are optional, but may enhance the experience. All items should be labeled with the person's name, address, and phone number in case anything is lost.
Environmental Considerations

Due to limited parking and to model energy conservation, we strongly suggest limiting support vehicles to one per bus and consolidating passengers to as few vehicles as possible for schools that visit without bus transportation.
Idling of vehicles is not permitted in the park. Please help to keep our air clean by turning off vehicles when stopped. Bus drivers are welcome in our warm and comfortable visitor center. 
Please bring trash bags to sort plastic, glass, and metal cans when you have lunch. Have students place the material to be recycled in the recycle bins at the campground on the way out of the park.Only put garbage in the waste bins at parking lots.

In order to prevent the spread of white-nose syndrome, a fungal disease that has killed over a

million bats since 2005, screening is required before any individual may enter a cave

. We are asking all teachers to screen their students prior to

their visit. Please add the following questions to field trip permission slips or verbally

screen students:



-Have you visited a cave or mine since 2005?
(If the answer is No permit issued)
-Do you agree to not bring any items that were in previously visited caves or mines?
(If the answer is Yes permit issued)
Recommended Itinerary


| | |
| --- | --- |
| 10:30 a.m. | Arrive at Craters of the Moon Visitor Center. Use the restrooms and tour the Visitor Center. |
| 10:45 a.m. | Front lawn of the Visitor Center or multipurpose room in bad weather. Orientation stressing monument geology and safety concerns. Plan to divide larger groups in half. The first group enters the Visitor Center while the second group receives an orientation. Then the two groups switch. |
| 11:00 a.m. | North Crater Flow Trail. This short (less than 1/4 mile) walk winds through a portion of the North Crater lava flow on a paved trail. A wide variety of flow formations can be seen, including aa and pahoehoe lava, blue dragon lava, pressure ridges, squeeze ups, and rafted blocks. |
| 11:45 a.m. | Spatter Cones. The Spatter cones are located directly off the parking area. These "miniature" volcanoes are thought to have formed during the latter stages of a fissure eruption as thick pasty globs of lava were thrown into the air and piled up around a vent. |
| 12:00 noon | Big Craters. The steep 1/4 mile long paved trail takes you to the crater's rim. Big Craters is actually a "cinder cone complex" consisting of nine nested cones made up of brown, red, and black cinders. Big Craters is an excellent example of how a fissure eruption gradually shifts and changes. |
| 12:30 p.m. | Drive the loop road back to the campground or Visitor Center for lunch. |
| 12:45 p.m. | Lunch! |
| 1:45 p.m. | Last stop at the Visitor Center. |
| 2:00 p.m. | Leave Craters of the Moon. |
Notes:
Visiting

Indian Tunnel

will add approximately one hour to this schedule.

The hike around the Broken Top Loop Trail is an excellent substitute for the activities on this itinerary.

See the Field Trip Guides for these destinations below.

Field Trip Guides and Materials

These guides are available to assist with filed trips and teacher-led hikes on the Broken-top Loop and Caves Trail. Links to worksheets and activities appropriate for each trail are listed below each guide.

Journaling - Students keep a journal chronicling their visit to Craters of the Moon

Broken Top Brain Teasers - An inquiry-based exercise to conduct on a field trip. 
Broken Top Brain Teasers for Teachers - Answer sheet for Teachers

Habitat - Where Life is at! - Students compare plants and wildlife in 3 different habitats in this field trip activity. 

Walking on the Moon - Students measure and compare their velocity at school, Craters of the Moon...and beyond!


Indian Tunnel Scavenger Hunt - Discover cave features through close observation utilizing this field trip activity. 

Habitat - Where Life is at! - Students compare plants and wildlife in 3 different habitats in this field trip activity. 

Walking on the Moon - Students measure and compare their velocity at school, Craters of the Moon...and beyond!


Contact
Visitor Center staff
208-527-1335
Details
type:

Field Trips