Restaurants
Please visit our
Current Condtions page
to learn the current status of the facilities below. Some facilities are closed or have reduced hours right now due to COVID-19, and some services, procedures, and policies have changed. This page is not being updated to reflect current conditions.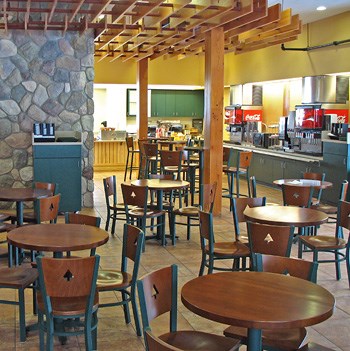 The park has three restaurants, and one general store with a limited supply of groceries. The Rim Village Café is open year-round. The others are open seasonally.

Below are the dates and hours for 2020.
Rim Village Café
The Rim Village Café serves light fare including grab-and-go sandwiches, salads, soup, and snacks.

Jan. 1–March 12........10:00 am–4:00 pm
March 13–May 14......10:00 am–5:00 pm
May 15–June 4........10:00 am–6:00 pm
June 5–Sept. 7.........9:00 am–8:00 pm
Sept. 8–Sept. 27......10:00 am–6:00 pm
Sept. 28–Oct. 31.......10:00 am–5:00 pm
Nov. 1–Dec. 31........10:00 am–4:00 pm*
*closed on Thanksgiving Day (Nov. 26) and Christmas Day (Dec. 25)
Annie Creek Restaurant
The Annie Creek Restaurant in Mazama Village has a varied menu that includes breakfast sandwiches, burgers, wraps, soup, salads, and pizza.

May 23–June 11
Breakfast........8:00 am–10:30 am
Lunch.............11:00 am–4:00 pm
Dinner............5:00 pm–8:00 pm

June 12–Sept. 7
Breakfast........7:00 am–10:30 am
Lunch.............11:00 am–4:00 pm
Dinner............4:00 pm–9:00 pm

Sept. 8–Sept. 27
Breakfast........8:00 am–10:30 am
Lunch.............11:00 am–4:00 pm
Dinner............5:00 pm–8:00 pm
Crater Lake Lodge
Crater Lake Lodge offers casual dining with a lakeview setting. Reservations are recommended for dinner (541-594-2255 ext. 1) but are not taken for breakfast or lunch. Appetizers, drinks, and desserts are also available in the Great Hall and on the back patio, from 3:00 pm until closing.

May 15–Oct. 11
Breakfast........7:00 am–10:00 am (10:30 am June 5–Sept. 7)
Lunch.............11:30 am–2:30 pm
Dinner.............5:00 pm–9:00 pm (10:00 pm June 5–Sept. 7)
Mazama Village Store
The Mazama Village Store sells groceries, camping supplies, firewood, and gasoline.

May 22–June 11........10:00 am–5:00 pm
June 12–Sept. 7.........7:00 am–9:00 pm
Sept. 8–Sept. 28.........8:00 am–8:00 pm
Last updated: July 20, 2020