Restaurants & Groceries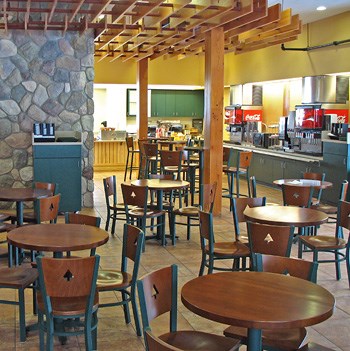 The park has three restaurants and one general store, which carries a small selection of groceries.

The Rim Village Café is typically open year-round. The other facilities are open seasonally.

Below are the dates and hours of operation for 2021.
Rim Village Café
The Rim Village Café serves grab-and-go salads and sandwiches.

Jan. 1–April 8........Closed to help slow the spread of COVID-19
April 9–May 13......10:00 am–5:00 pm
May 14–Sept. 26........10:00 am–6:00 pm
Sept. 27–Oct. 31.......10:00 am–5:00 pm
Nov. 1–Dec. 31........Possibly closed, depending on the course of the pandemic. Otherwise 10:00 am–4:00 pm*
*closed on Thanksgiving Day (Nov. 25) and Christmas Day (Dec. 25)
Annie Creek Restaurant
The Annie Creek Restaurant in Mazama Village sells grab-and-go sandwiches and salads for lunch and serves pizza, burgers, and other entrees for dinner.

May 22–Sept. 26
Lunch.............11:00 am–3:00 pm
Dinner............5:00 pm–8:30 pm
Crater Lake Lodge Dining Room
Crater Lake Lodge offers casual dining with a lakeview setting. In 2021, meals at the Lodge will be available for Lodge guests only. Food service options and hours of operation will depend on public health guidelines.
Mazama Village Store
The Mazama Village Store sells groceries, camping supplies, firewood, and gasoline.

May 21–June 10........10:00 am–5:00 pm
June 11–Sept. 27.........8:00 am–7:00 pm
Sept. 28–Oct. 11.........10:00 am–5:00 pm (gas only; store closed)
Last updated: September 7, 2021