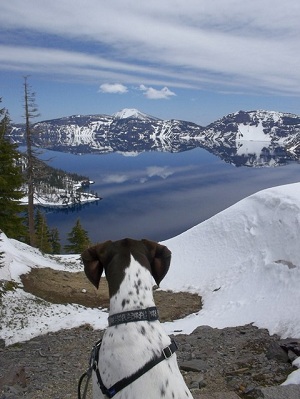 We often love to bring our pets to share our National Park adventures. We welcome pets at Crater Lake National Park in certain areas. Here are a few tips to help you enjoy your experience here at Crater Lake National Park with your pet.
Regulations
Pets on leash are allowed on paved roads and in parking lots, and up to 50 feet away from those paved areas. One great place to walk a dog is along the 1/4-mile paved promenade at Rim Village, where you (and your dog) can get fine views of the lake. You can also walk your dog through the campground at Mazama Village.
Leashes must be no more than 6 feet in length. Solid waste must be picked up immediately and disposed of properly (in a trash can or toilet).
Pets are also allowed on a few of the park's hiking trails; although none of these trails have a view of the lake:
· The Godfrey Glen Trail,
· The Lady of the Woods Trail,
· The Grayback Drive,
· The Pacific Crest Trail (the official PCT, not the "alternate" PCT along the rim of the lake).
Only one pet per hiker is allowed. Pets are not allowed on other park trails or off-trail. They are also not allowed inside park buildings, including Crater Lake Lodge and the Cabins at Mazama Village.
Service animals are excepted from these regulations. Service dogs are allowed on park trails and also on boat tours.
You may leave your pet, unattended, inside your vehicle. However, realize that interior temperatures of vehicles can rise within minutes and pets can quickly overheat and die, even with the windows cracked. You may not leave your pet unattended outside your vehicle, tied to a tree or car.
There are no kenneling services in the park. The closest kennels are one hour away in Klamath Falls.
Why do we require these rules for pets?
National Parks are afforded a special level of protection for natural resources. These resources include animals from the ground squirrels up to black bears and mountain lions as well as natural resources like volcanic soils and plants.
Your domesticated pet can harm the wildlife in the park. Pets can chase, scare, kill and transmit diseases to wild animals. Even the scent dogs leave behind can disrupt the natural environment causing animals to avoid the marked territory.
Please follow these tips and regulations and they will help you have a great time with your pet at Crater Lake National Park.