Lodges In the Park
There are two lodging options in the park, Crater Lake Lodge and The Cabins at Mazama Village. Both are managed by the concessions operator, Crater Lake Hospitality (CLH). Cabin, room and lodge amenities, current prices, and availability are found on the Crater Lake Hospitality website. Reservations can be made up to 365 days in advance either online or by calling the CLH toll-free reservation line, 866-292-6720.

For a list of accommodations outside the park, visit the Lodging & Camping page.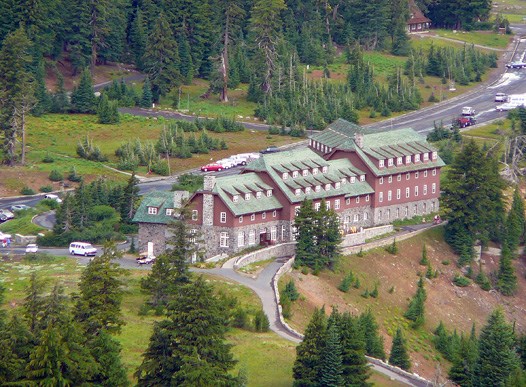 Crater Lake Lodge
The historic Crater Lake Lodge was built on the edge of the caldera, nearly 1000 feet above Crater Lake, and is surrounded by sub-alpine meadows and forests. It first opened in 1915 and was re-constructed and stabilized in 1995. The lodge has 71 rooms including six which are accessible. Some accommodations have views of the lake while others overlook Rim Village or the beautiful landscape.

The lodge is typically open mid-May through mid-October. Visit Crater Lake Hospitality for current information and to make reservations.
The Cabins at Mazama Village
The Cabins at Mazama Village are nestled in an old growth forest of lodgepole pines. The rustic-style exterior opens into a more modern inn-like setting. There are 10 cabins, each with 4 private accommodations (40 rooms). A campground and amphitheater, cafe, and campstore are nearby in the village.

Mazama Village is easily accessed via Hwy 62 from either the West or South Entrance, or located 7 miles south of Rim Village. Operating dates are typically May, although opening can be delayed due to weather and snowpack, through September. Visit Crater Lake Hospitality for more information and reservations.


Last updated: January 9, 2022