Climate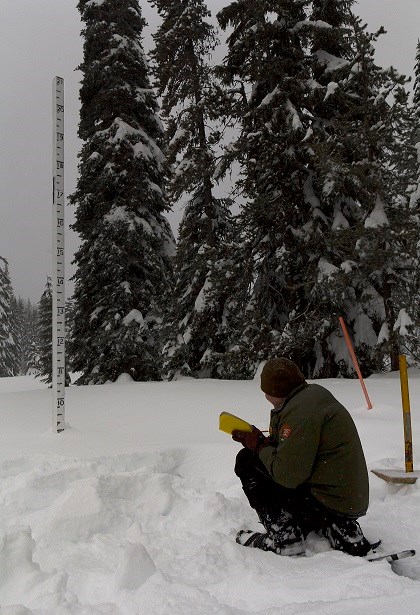 Park rangers have recorded weather conditions at park headquarters since 1931, with only significant interruptions during World War II. Measurements of precipitation, snowfall, snow depth, and maximum and minimum temperature are made once daily around 8 AM. This data establishes average monthly weather patterns that a visitor is likely to experience anytime throughout the year.

October through June, Crater Lake National Park is generally snow covered. Snowfall averages 512 inches (13 meters) annually, and by early spring, it is common to have 10 to15 feet (4 meters) of snow on the ground. July, August, and September are drier and warmer months. A typical daytime high temperature during these three months is around 67°F (19°C), but can range from 40°F to 80°F (4°C to 27°C). Temperatures cool off rapidly in the evening, with an average nighttime low around 40°F (4°C).

For current conditions, please see our Weather and Forecast page.
Temperature
Unit
Jan
Feb
Mar
Apr
May
Jun
Jul
Aug
Sep
Oct
Nov
Dec
Average daily high
ºF
34
35
37
42
50
58
69
69
63
52
40
34
ºC
1
2
3
6
10
14
21
21
17
11
4
1
Average daily low
ºF
18
18
19
23
28
34
41
41
37
31
23
19
ºC
-8
-8
-7
-5
-2
1
5
5
3
-1
-5
-7
Average lake surface
ºF
39
38
38
38
40
45
54
59
56
50
45
41
ºC
4
3
3
3
4
7
12
15
13
10
7
5
Snowfall
Unit
Jan
Feb
Mar
Apr
May
Jun
Jul
Aug
Sep
Oct
Nov
Dec
Average snowfall
Inches
99
80
83
45
19
4
0.2
0.1
3
21
61
93
Centimeters
251
203
211
114
48
10
1
0.3
8
53
155
236
Average snow depth
Inches
78
100
114
110
75
23
1
0
0.2
2
16
47
Centimeters
198
254
290
279
191
58
3
0
1
5
41
119
Last updated: September 8, 2019