Campgrounds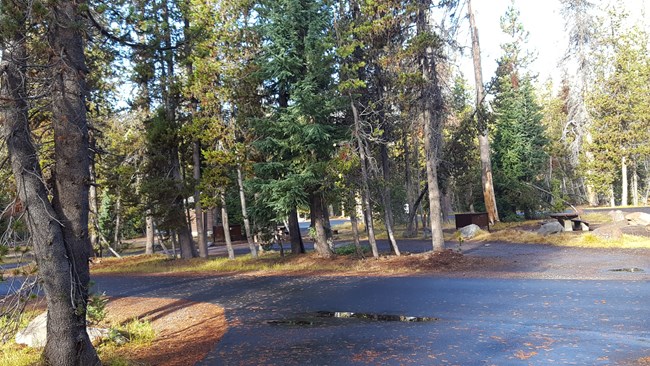 The park has two developed campgrounds: Mazama Campground and Lost Creek Campground. Mazama Campground takes reservations (except in June) and can accommodate both RV's and tents. Lost Creek Campground is a first-come, first-served campground for tents only. Both campgrounds are located in forests south of the lake and are open only in the summer. Each campsite has a picnic table, a fire ring with a grill, and a metal bear box for food storage.

Camping (and overnight parking) elsewhere in the park is prohibited, except by backcountry permit.

Sites at Mazama Campground can be reserved online or by calling 1-866-761-6668.
Campground

Approximate Dates

Current Status

Elev.

# Sites

Fee

Features

Notes

Mazama

June 15 to late September

CLOSED

6000'

214

$22 / $31

A, F, V, W, RV, S/L/S, DS, R

Max RV length 50'

Lost Creek
mid July to
mid-October
CLOSED

6000'

16

$5

F, N

Tents only
| | | | | |
| --- | --- | --- | --- | --- |
| F | Flush toilets | | S/L/S | Pay showers/laundry services nearby |
| V | Vault toilets | | DS | Dump station |
| RV | RV sites available | | A | Accessible sites available |
| RR | Reservations available | | N | No Reservations |
Additional Nearby Camping Options
For a list of campgrounds outside the park, download the Lodging & Camping brochure from our
publications page
.
Campground Fee Discounts
Senior Pass and Access Pass holders are entitled to a 50% discount on camping fees. Other passes, including the Interagency and Military passes, do not provide a discount.
Food Storage
Crater Lake National Park requires that all food, garbage, and any equipment used to cook or store food, be kept sealed in a vehicle or provided bear box located at the campsite. Food storage items may include items that you do not consider food, such as; canned goods, bottles, drinks, soaps, cosmetics, toiletries, trash, ice chests (even when empty, and even if certified as bear resistant), wash basins, washed and unwashed items used for preparing or eating meals. All food related items must be stored according the above regulation.
Please note that these food storage regulations have the force and effect of federal law: Failure to store your food properly may result in the confiscation of your food or odorous items. Mandatory court appearance violation notices may result depending upon the severity of the violation, and/or revocation of your camping permit
Quiet Hours and Generators
Quiet hours are 10 pm to 7 am. Generator use is allowed 8 am to 8pm at Mazama Campground. Generators are prohibited at Lost Creek Campground.
Campfires
Wood fires are allowed only in designated fire rings. Do not build rock rings outside the established ring or burn trash in the ring. Never leave fires or hot coals unattended and extinguish them completely before leaving.
Firewood
You may bring approved firewood, purchase firewood at the Mazama Camper Store, or gather downed, dead wood. Do not cut, saw, or break any standing trees, dead or alive. Due to the potential introduction of nonnative plants and insects through the transportation of firewood, Crater Lake National Park participates in the "Buy it where you Burn" campaign. All firewood brought into or burned at the park must be "Approved Pacific Northwest Firewood." This can be purchased at the Mazama Camper Store and at many locations throughout Oregon, Washington, and Idaho.
Sanitation
Water is a precious and limited resource; please use it wisely. Wash dishes at your campsite, not in restrooms or at water spigots. Strained dishwater must be disposed of in the grates located in front of each restroom. Dispose of food particles in trash bins, not in the sink drains or grates. Please do not bathe or wash clothes at water spigots or in sinks. Gray water from RVs and trailers must be contained and disposed of at the Mazama Campground dump station. Trash and recyclables should be sorted and deposited in the appropriate bins at either campground.
Dump Station
A free dump station is located in Mazama Campground and is usually open late May through mid-October.
Camper Store, Laundry, and Showers
A store with hot showers and laundry machines is located in Mazama Campground (see
store hours
). Showers and laundry machines take quarters. There's a change machine by the showers. Your quarters maintain the wastewater treatment system in the park and help return clean water to the park environment.
Vehicles and Bicycles
We encourage visitors to enjoy the campground and help ensure the safety of all visitors by keeping all vehicles, including motorcycles, trailers, and bicycles, on paved areas at all times.
Pets
Pets
are welcome in park campgrounds. They must be attended and on a leash not longer than 6 feet at all times. It is the owner's responsibility to clean up after them.

Last updated: October 27, 2019