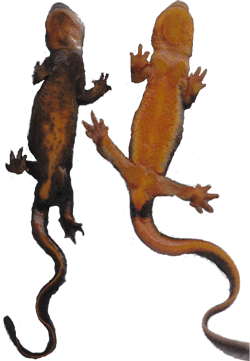 Both the Mazama Newt, and the more widely distributed rough-skinned newt, produce toxins as a defense against predation.
Newts are the only land animal to contain tetrodotoxin (TTX), an incredibly potent neurotoxin. Tetrodotoxin is also found in the deadly puffer fish and blue-ringed octopus.

Some newts can produce enough toxin to kill 17 humans.

Rough-skinned Newts from low elevations have 4000 times the toxin as Mazama Newts in Crater Lake.
The Mazama Newts found in Crater Lake are not very toxic compared to Oregon newts outside the lake.