Make your own map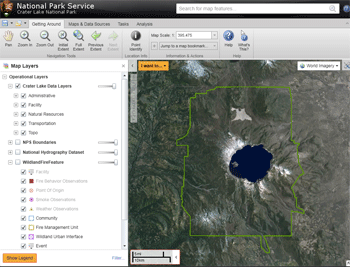 Explore Crater Lake through this on-line mapping web page. The Crater Lake Park Atlas is an interactive web map with which you can:
Print out your own map and/or save it as an image or PDF
Make a map for your school or research project
Explore map layers like Geology, Trails and Topography
Measure lengths and areas
Draw on the map and save your changes
Get geographic coordinates
Add your own data from an excel file or GPS track
NOTE: When loading this viewer, you may be prompted to install Microsoft Silverlight. Click Yes to everything in order to install Silverlight which will launch the Park Atlas viewer.
DISCLAIMER: The National Park Service shall not be held liable for improper or incorrect use of this map and/or the data contained herein. No warranty is expressed or implied as to accuracy, reliability, or completeness.
DO NOT USE THIS MAP FOR NAVIGATION.

Last updated: February 28, 2015