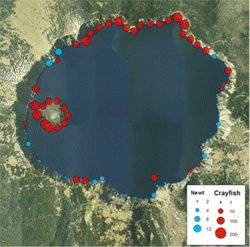 The figure shows the locations of newts (blue dots) and crayfish (red dots) in Crater Lake. Newts and crayfish rarely inhabit the same locations because the crayfish are aggressive and drive the newts away, or eat them.

Crayfish were introduced by humans in 1914,
Newts may have naturally colonized the lake as early as 6,000 years ago,
Over the past 100 years crayfish may have reduced newts distribution by 50%,
Crayfish may have the potential to eliminate newts from Crater Lake.