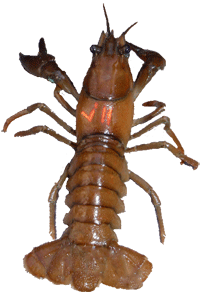 The Signal Crayfish (Pacifastacus leniusculus klamathensis) was introduced by humans into Crater Lake in 1914.
The signal crayfish is a common crayfish in southern Oregon.
Introduced crayfish have proven to be very destructive to ecosystems in both streams and lakes around the world.

Park biologists are concerned about the Signal Crayfish affects in Crater Lake so they are studying:
Locations of crayfish in Crater Lake,
Crayfish behavior during encounters with Mazama Newts,
Crayfish effects on newts, insects, and algae in Crater Lake,
Whether crayfish will eradicate all the Mazama Newts in Crater Lake,
Methods to reduce, or remove, crayfish from Crater Lake.