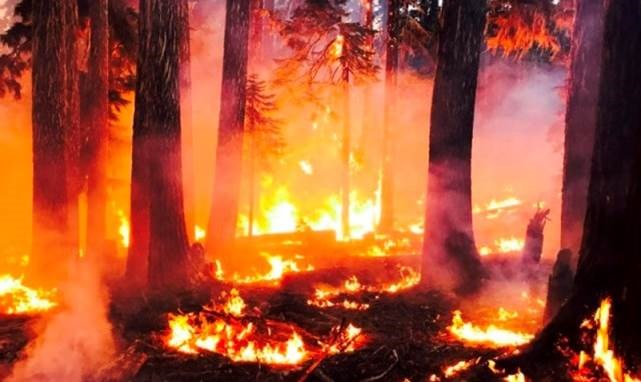 Fire is a Force of Nature
Fire is a natural part of the Crater Lake ecosystem. Fire is dangerous and powerful, and it can be inconvenient, but without it the Crater Lake ecosystem would never be the same. Many plants have developed adaptations so they can survive fire, and some even rely on fire for existence. Fire restores nutrients to the soil and positively impacts the composition of the park's plant communities. However as the west was settled in the 1800's, most naturally occurring fires were suppressed, drastically changing the health of the ecosystems. The National Park Service aims to restore fire's natural role in the park where it is safe and feasible.
Lightning may ignite dozens of fires in the Crater Lake area during a single summer, but most of them go out naturally after burning less than half an acre. Others will torch isolated or small groups of trees, become smoldering ground fires, and eventually go out on their own. On few occasions, wind driven fires can burn through large areas of the forest. Some of these can eventually burn thousands of acres. Without frequent small and occasional large fires to create a mosaic of plant communities in different growth stages, and biodiversity can decline. Downed branches and trees can create dangerous amounts of fuel, waiting for the next spark. A healthy progression of regular fires is essential to keep the ecosystem healthy and reduce fire loads in the forest.