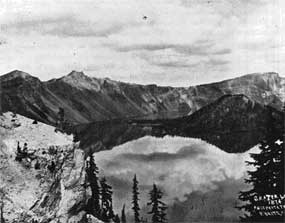 The Crater Lake Science & Learning Center, in collaboration with the Crater Lake Natural History Association and the Friends of Crater Lake National Park, coordinates and delivers the Artist-in-Residence program.
The program provides an opportunity for two eligible artists to spend up to two weeks of the fall, and another two artists for up to two weeks in the spring, at Crater Lake National Park to pursue their particular art form while being surrounded by the awe-inspiring landscape of the park.
Artists are provided housing in the park to work on projects in one of the most beautiful places on Earth!
Writers, sculptors, photographers, painters, dancers, cinematographers, musicians, composers, and other visual and performing artists are invited to apply for this opportunity to draw upon the multifaceted qualities of the park for inspiration.
All of these artists translate the national park's purpose, as a place of pleasure and preservation, into creations that bring others enjoyment and a deeper understanding of the parks.