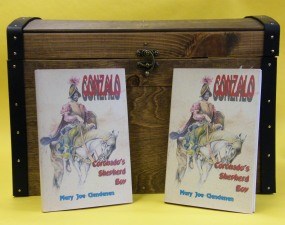 Gonzalo Coronado's Shepherd Boy is a work of fiction by Mary Joe Clendenin. Following is an excerpt from the front cover:
"Gonzalo, perhaps the descendant of Aztec princes, joined his father and Spanish conquistadores in a long, dangerous journey in search of the golden city of Quivira. The heat, Gonzalo knew of--but not the cold, the ice or snow, nor the strange people who impeded their journey and threatened them at every turn of the trail. Gonzalo learned to live in harmony with nature and survive in a hostile land...."
This book provides a framework for either group reading/discussions for formative evaluation and laying a foundation for the historical events of the Coronado expedition, or can be used for individual reading and summative evaluation of comprehension.
Social Studies standards guiding Fourth Grade study of Arizona are the overarching standards used in the development of these sets of activities. However, you will find that the unit is developed with a concentration on the Reading and Writing Standards and is designed as a cross curricular piece.
These activities were not designed to replace existing historical text of the Coronado Entrada. The novel itself is historical fiction and does contain some inconsistencies and chronological flaws, as many fiction pieces do. Teachers are encouraged to use these materials as supplementary activities.
Activities were designed so that teachers can pick out those activities that support their study of Arizona. We encourage you to review all of the material and select those activities that are most useful to your students and fit within the timeframe you have to devote to this section of Arizona history.


Teacher guides and student worksheets are downloadable or available in the trunk. To request the trunk, please contact the Chief of Interpretation and Education.