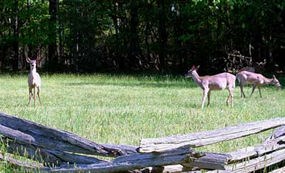 White-tailed deer graze along the edges of woodlands, bald eagles and osprey feed their young in nests, and turtles cross the roadways. Salt marshes along the York River provide homes for fiddler crabs, while dragonflies and beavers are active around freshwater ponds. Nearly every habitat required for animal life is found within the park's boundaries. Over 200 species of birds, 40 of mammals, 90 of fish, and 50 of amphibians and reptiles, as well as hundreds of species of insects, live in the park, some all year and some only during nesting season, migration, or winter.
Native Americans and colonists enjoyed an abundance of game, fish, and shellfish to feed their families. As the forests disappeared and homesteads and farmlands were established, species numbers diminished and wildlife retreated into the remaining forests. When the park was established, trails and roadways were constructed throughout the park to allow the visitor to experience a rural agricultural setting, similar to that of the Colonial period. Since the forests and fields are undisturbed by visitor use, the park now supportsa relatively large number of animals, with some species returning from low numbers-otter, bobcat and beaver.
Surveys conducted within the park report several rare animal species. Visitors will see abundant wildlife from the Jamestown Loop Trail and the Yorktown Battlefield Tour Roads. Overwintering seabirds and ducks bob in the York River, while winter egrets and herons fish in the the freshwater marshes bordering the James River.