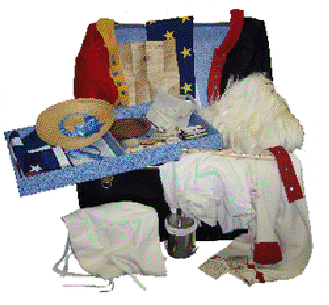 YORKTOWN BATTLEFIELD
THE FORTUNES OF WAR TRAVELING TRUNK- Suggested grades: 4-6. Traveling trunk offers your students interactive, hands-on activities for studying the American Revolutionary War and the 1781 Siege of Yorktown. The trunk contains a Fortunes of War Resource Manual on the Revolutionary War; classroom activities and worksheets; reproduction military uniforms and accessories; period flags; toys and games, a copy of the surrender document form the 1781 Yorktown siege; and reproduction newspapers from 1776. Primary emphasis is placed on Virginia History and Social Science Standards of Learning: Virginia Studies, Colonization and Conflict: 1607 through the American Revolution, VS.5; and Revolution and the New National: 1770s to the Early 1800s, USI.6.
Fortunes of War Traveling Trunk Manual 1.89 MB
Borrowing the traveling trunk is free. Call the Program Support Specialist at 757-898-2411 to make arrangements to pick up the trunk from the National Park Service Visitor Center at Yorktown. It can be picked up any day of the week. Borrow period is two weeks.
Fortunes of War Traveling Trunk