What's Blooming Now?
Rimrock Milkvetch
(Astragalus desperatus)
Bloom period: April ~ May
Family: Pea (Fabaceae)
Description: Low-growing perennial 1/2 - 4 1/2 inches tall. Main flower stalk up to 5 inches tall. Individual flowers rise on short stems. Purple petals are 1/4 inch long.
Common Globemallow
(Sphaeralcea coccinea)
Bloom period: May
Family: Mallow (Malvaceae)
Description: Perennial 2 - 18 inches tall. Orange to scarlet flowers 1/2 inch wide with numerous stamens. On elongated stalk.
Common Paintbrush
(Castilleja chromosa)
Bloom period: May
Family: Figwort (Scrophulariacea)
Description: Perennial 4-20 inches tall. Flower-like bracts reddish and tubular. The cleft calyx lobes have rounded segments. Collective petals green and 2-lipped.
Hoary Aster (Machaeranthera canescens)
Bloom period: August ~ September
Habitat:
Description: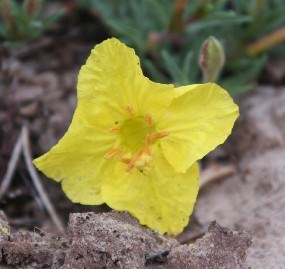 Evening Primrose (Lavandula Calylophus lavandulifolius)
Bloom period: May
Habitat:
Description:
Last updated: November 30, 2012