Castle Rock Lodge, Bunkhouse and Willow Glamping Yurt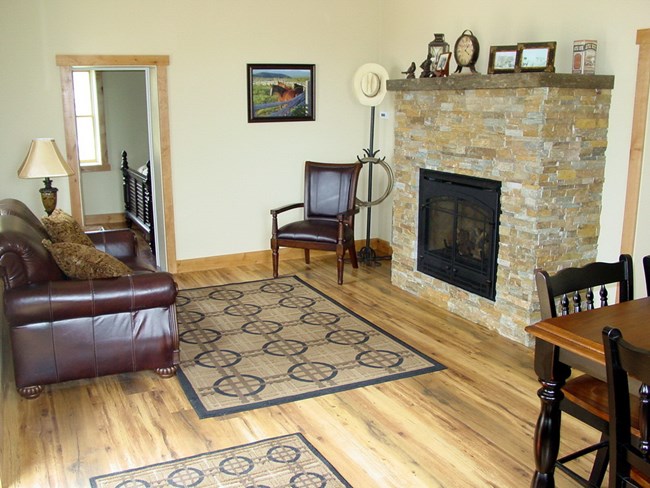 THE LODGE AT CASTLE ROCK RANCH
"The Lodge" is a century-old ranch house completely remodeled to blend the quaintness of yester-year with the convenience and comforts of today. The Lodge is available year-round, and reservations are recommended.
What's inside?
The Lodge offers a master bedroom with queen-size bed, flat screen TV/DVD and reading room/den. A TV room with a flip-flop sofa converts into a sleeping room for two youth. A third sleeping room provides a double/twin bunk bed for up to three, and a fourth, "the quiet room" has a twin bed, desk, and private deck. Other rooms include the fully equipped kitchen, spacious bathroom with tub/shower, dining area, and living room with propane fireplace.
Other amenities include:
WiFi hotspot
Roku TV
DVD Player
Outdoor deck
Tables
Seating for 8 people
Propane grill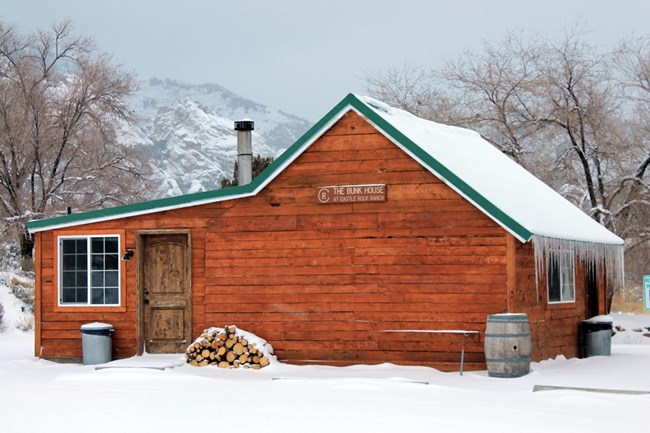 THE BUNKHOUSE
Castle Rocks State Park offers "The Bunkhouse" for rent, located next to The Lodge at Castle Rock Ranch. This facility is perfect for family reunions and scout groups.
The Bunkhouse offers a rustic and primitive-style lodging in a communal setting. Guests are housed in an open, two-room building with scenic Castle Rocks as the backdrop to the experience.
What's inside?
A comfortable 20x26-foot living area, accommodating up to 12 occupants, that consists of a kitchen/dining area, and sleeping-quarters.
The Bunkhouse is equipped with electricity, a hot-water sink, microwave, coffee pot and trash receptacles. Furniture includes table, chairs, food storage hutch, and wood-burning fireplace for heating. Three bunk-beds (twin over full), a single twin-bed, and a single full-bed (8 beds total) allows for a maximum of 12 individuals. Camp mattresses are provided on all beds. Guests must supply their own sleeping bag, cooking equipment, food, towels and other personal gear. An outside vault toilet is located nearby and showers are available May 1 through September 30 at Smoky Mountain Campground.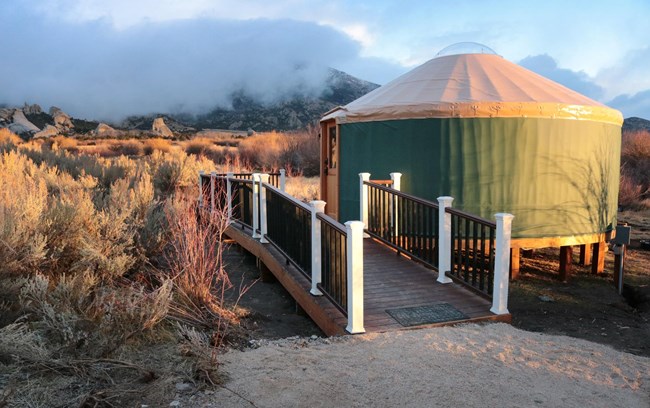 WILLOW GLAMPING YURT
The glamping yurt is set among a grassy meadow with Almo Creek a short distance away that curves gently through the willows creating a relaxing atmosphere. The yurt also offers sweeping views of granite spires, monoliths and Cache Peak.
The yurt is equipped with electricity, king size bed with linens, futon, electric heater, fire ring, picnic table and propane grill. Vault toilet and water are near-by. Free Wi-FI is also available.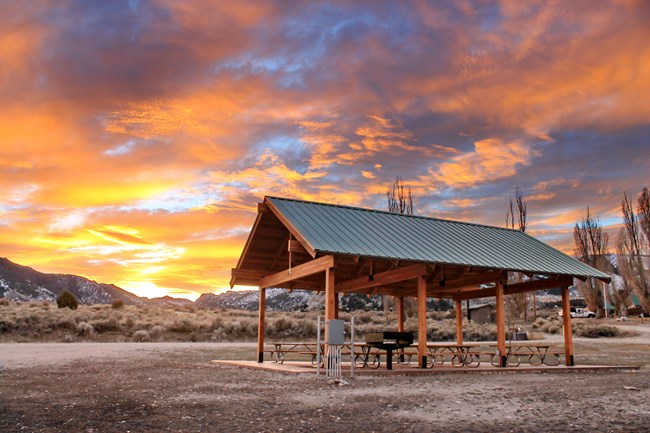 CASTLE ROCK SHELTER
The Shelter is an attractive western style building with wooden beams, stained tile floor and a roof that covers a 30' X 14' area. The shelter comes with six picnic tables, electrical receptacles and a charcoal grill that has a cooking surface of 37"X 37". A vault toilet and non-potable water spigot is located nearby.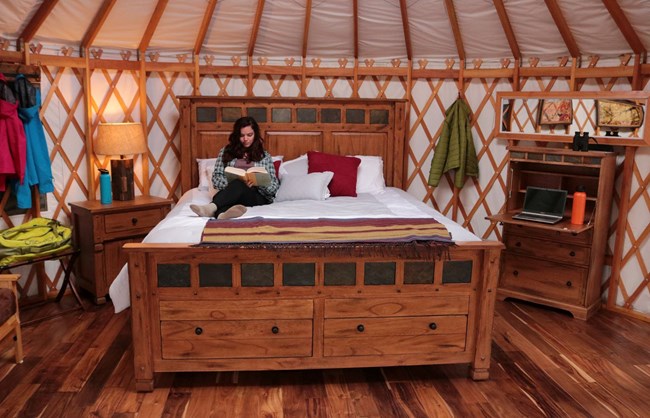 GUEST INFORMATION
Registration & Check-In/Check-Out
(3 p.m./12 p.m.)

Check-In
Check-in time for The Lodge, The Bunkhouse and Willow Glamping Yurt is as early as 3:00 p.m. on the day of arrival. An electronic key pad will get you into a facility. You can call (5 days) before you arrive at the park at 208-824-5901 between 8 am and 4 pm and a code will be issued to you. For more information contact the Visitor Center (208-824-5901) located in Almo. Office hours 8 a.m.—4:30 p.m. 7 days a week mid-April—October. November— mid-April open Tuesday—Saturday 8 a.m.—4:30 p.m.
Check-Out
Check-out time for The Lodge, Bunkhouse and Willow Glamping Yurt is at noon on the day of your departure. Please make sure you have collected all of your personal items and have locked the doors and windows. For the yurt please closed the window flaps and lock the door.
Rental/Vehicle Fee and Reservation
Lodge
Exclusive rental of The Lodge for 1-8 people is $159* Idaho Resident, $174.90* Non-Resident a night.
Bunkhouse
Exclusive rental of The Bunkhouse for a group (no more than 12 people) is $106* Idaho Resident, $116.60* Non-Resident a night.
Willow Glamping Yurt
Exclusive rental of the glamping yurt for 1-4 people is $132.50* Idaho Resident, $143.10* Non-Resident a night.
Shelter
Rental of the Shelter for the day 7 a.m.—10 p.m. is $37.10*
Vehicles
All vehicles entering the park are required to pay an additional $5* per day Motor Vehicle Entry Fee (MVEF) or display an Idaho State Parks Passport or Annual Motor Vehicle Pass on the windshield of the vehicle.
*Includes sales tax
Helpful Hints During Your Stay
Park staff want to ensure that you have a safe and memorable experience, so we suggest these helpful hints:
Stop in at the visitor center in Almo for guidebooks, trail maps, souvenirs, and the latest opportunities and programs.
For cooler ventilation in summer, turn on the ceiling fan, open the windows in the evening, and close the blinds during the day. For Willow Glamping Yurt, unzip the outdoor window canvass and/or raise the transparent dome using the long attachment stored next to the door (be careful not to over-crank the dome).
For additional heating in winter, use the propane fireplace and extra blankets in The Lodge or the wood-stove in The Bunkhouse. For Willow Glamping Yurt make sure the window canvass is zipped, dome is down, and fireplace is on.
Willow Glamping Yurt guests will use the vault toilet across from the lodge and bunkhouse (510 feet).
Yurt guests may use the showers at Smoky Mountain Campground for no additional fee during in-season months (May – September). Smoky Mountain Campground is six (6) miles from the glamping yurt.
Making a Reservation
To reserve your stay in the lodge or Willow Glamping Yurt, call toll-free: 888-922-6743
To reserve your stay in the Bunkhouse, call 208-824-5901
In addition to the nightly fee, a $10 non-refundable and non-transferable reservation fee is assessed by ReserveAmerica. You may also make a reservation online at:
www.ReserveAmerica.com
RULES FOR LODGE, BUNKHOUSE GUESTS AND WILLOW GLAMPING YURT
Pets are not allowed inside the facilities (except bunkhouse; service animals are allowed in all facilities).
Smoking is strictly prohibited
Guest may not pitch tents or park other camping units near The Lodge and The Bunkhouse locations.
Quiet hours are 10 p.m. to 7 a.m.
Guests are responsible for damages in excess of normal wear and tear, and are also responsible for missing items (if not reported upon check-in).
Confine outside campfires to the designated fire-ring provided.
At no time may more than 8 people occupy The Lodge, no more than 12 people at The Bunkhouse and a maximum of 4 people occupying the Willow Glamping Yurt..
Three vehicles permitted at The Lodge and four vehicles at The Bunkhouse and two vehicles at the Willow Glamping Yurt. Vehicles should be parked in the designated parking areas. All vehicles are subject to the $5 MVEF.
Directions: From I-84 East, take Exit 216 to Declo. Continue south on ID 77 to Conner Creek, then turn right (west) on ID 77 Spur. Two miles north of Almo, turn right (west) onto 2800 South for 1.4 miles to the park entrance.

From I-84 West, take Exit 245 to Malta. Turn left (south) onto ID 81 for .2 miles to ID 77, then turn right (west). At Connor Creek junction, follow directions above to Almo and park entrance.


Last updated: November 4, 2019