Be A Junior Ranger
Charles Pinckney Junior Ranger Program
"Explore, Learn, and Protect!" Inviting the youngest park visitors to become a member of the National Park Service family, the Junior Ranger program gives kids and families the opportunity to uniquely explore and learn about their national parks, and how they can help protect them today and into the future. Kids get the chance to interview Rangers, complete games, and answer questions about the park and the National Park Service. Pick up your Junior Ranger program at Charles Pinckney National Historic Site!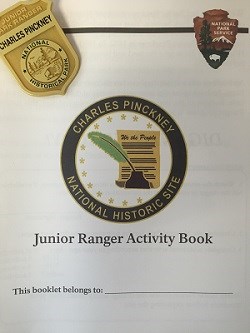 Get A Head Start
If you are planning a trip to Charles Pinckney National Historic Site, and you would like to get a head start on our Junior Ranger Progam, contact us. We can send you a PDF version.
National Park Service Web Rangers Program
In WebRangers, you can:
Bring National Park fun to your computer.
Learn more about your national parks even if you can't visit them.
Learn about parks before you visit.
Learn how to care for your parks and your world.


Last updated: February 23, 2019