Marsden Tract Campsite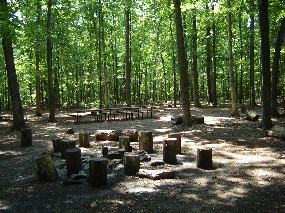 The Marsden Tract Group Campground is located at Mile 11.5 on the C&O Canal Towpath, between the Carderock Recreation Area and Angler's Inn. The group campsites are nestled in the woods between the Canal and the Potomac River and they are a short distance from many recreational opportunities. Fishing, rock climbing, boating and hiking are but a few possibilities while staying at Marsden Tract. (Note: A Maryland Fishing License is required in order to fish in the Canal if you are over 16. Either a Maryland or Virginia Fishing License is required in order to fish in the river.)
The campground has three group campsites: All will accommodate up to 30 campers at each site. Each campsite has a picnic table and a fire ring. Portable toilets are located between group campsite #1 and group campsite #2. Potable water is a short walk up the towpath and across the footbridge (may not be available during cold winter months). NO VEHICULAR traffic is allowed on the towpath and access to the campsites is by FOOT ONLY.
Marsden Tract Group Campground is reserved for organized scout and/or civic groups only. Use of the campsites is by PERMIT ONLY and reservations will be accepted online.
The cost for the permit is $40.00 per site per night and payment is non-refundable. Payment MUST be received at the time the reservation is made. No rain dates are given.
Here is a partial listing of general rules and regulations for use of the Marsden Tract Group Campground. A more complete listing of park rules and regulations is available.
Overnight parking is permitted ONLY at the Carderock Recreation Area, the parking lot across from Angler's Inn, or at Great Falls (entrance fee charged). No overnight parking permits are required for parking in these locations.
Fires are permitted ONLY in established fire rings. Please ensure that your fire is extinguished completely each time you leave the area. The cutting or defacing of any live growth is strictly prohibited. ONLY fallen dead timber may be used for on-site firewood. Park Rangers reserve the right to ban ALL fires during periods of drought.
Groups may arrive at the designated site starting at 12:00 P.M. (Noon)
Groups MUST be out of the designated site by 10:00 A.M. on the day of departure.
Please observe quiet hours between 10:00 P.M. and 6:00 A.M.
Alcoholic beverages are PROHIBITED.
The park is a "Trash Free Park" and trashcans are not provided. Trash must be picked up and the area left in a clean condition before the group departs.
Swimming and/or wading in the Potomac River or the C&O Canal is extremely dangerous and prohibited by law.
For further information, directions or reservations please visit Recreation.gov.
If you have any questions, please contact Acting Fee Supervisor Shaun Lehmann
Last updated: August 14, 2018