Hiking and Biking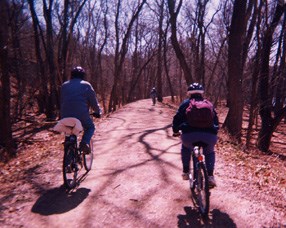 "Of all the paths you take in life, make sure a few of them are dirt."
- John Muir
Hiking
Several park areas have interpretive trails and other hiking opportunities. Aside from the towpath, there are many great hiking trails in the Park: the Tunnel Hill Trail near the Paw Paw Tunnel, the Ferry Hill Trail near Sharpsburg, as well as 14 miles of trail near Great Falls (including the Billy Goat Trail).
View hiking maps and walking guides.
Hiking Tips:
· Bring water and food
· Wear sturdy footwear
· Be prepared for changing weather conditions
· Know your location
· Share the towpath with other users
· Pack out all trash. Trash bags are provided at dispensers
located throughout the park.
The C&O Canal NHP also connects to the Potomac Heritage Trail, the Appalachain National Scenic Trail, and the Captain John Smith Chesapeake National Historic Trail.
Biking
Bicycle riding is permitted on the canal towpath, Western Maryland Rail Trail, Capital Crescent Trail, and Berma Road - biking is not permitted on hiking trails or off trail. The surface of the towpath is for the most part an even hard-packed dirt trail. The towpath can be very muddy following heavy rain. Bicyclists should carry tools for repairs.
Please follow these basic biking regulations:
·
15 MPH maximum speed limit on towpath
·
Ride single file
·
Stay to the right except when passing
·
Yield right of way to all pedestrians, horses and mules
·
Walk bikes over aqueducts
· Sound devices (bell, horn, etc.) are recommended and should be sounded within 100' of approaching others
Helmets required in accordance with county ordinances. Children under the age of 16 required to wear helmets. Bicycle electric assist features cannot be used while on the towpath; they are defined by the National Park Service as motor vehicles and therefore are not allowed on trails.

Bike rental information
Multiple-Day Trips
Hiker-Biker and Drive-in campsites are located from Swains Lock to Cumberland. Please note: Potable water may not be available at each hiker/biker campsite. Please plan to bring water purification tablets with you.
Last updated: March 31, 2018